This post may contain affiliate links. Read my disclosure policy here.
Nolie, 5 Minutes for Mom assistant, is here to share a look at Jam Transit Headphones and give you a chance to win your own set. While she was provided with product to write this post, her views and opinions remain her own.
I am a blogger and I am a gamer. Both require me to "be in the zone". I tend to blog during the day and game at night. Or at least I used to. Then I had children who decided naps were a foreign concept and I lost my quiet time. When I was given the chance to review Jam Transit Headphones I jumped all over it. Finally I could find a way to have some peace and quiet a way to drown out the noise of my children when my husband is home to watch them.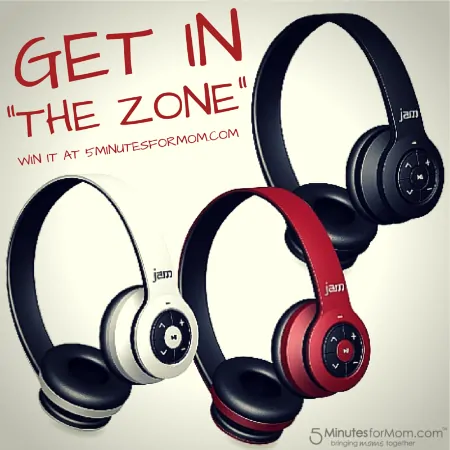 I have difficulty finding the perfect headset. My ears are precious and don't like to be squished. I also hate having a microphone in front of my face and I need a headset with a microphone for my gaming. Jam Transit Bluetooth Headphones are perfect for my needs. The soft cushion that surrounds you ear is not only comfortable but is also amazing for blocking out noises around you. This means I can put on music and blog away while not being distracted by my environment.
For gaming and Skype purposes I LOVE LOVE LOVE the built in microphone. Nothing is in my way yet those I am talking to can hear me crystal clear. Since Jam Transit headphone are Bluetooth capable I am also able to use them with my iPhone. I tested it out calling a friend of mine and she had no clue I was calling with headphones on instead of holding my phone up to my ear.
Last but certainly not least Jam Transit Headphones DO NOT require batteries. Yes you heard me right. You just plug them into your computer with the provided cord to charge them. With a zillion kids toys requiring batteries I am happy to not have yet another thing in my house requiring batteries.
You can buy Jam Transit Headphones directly from Jam Audio for $49.99 or enter to win a pair below.
Enter to Win
One lucky reader is going to get their chance to win a Jam Transit Bluetooth Headphone. Use the Giveaway Tools form to enter this giveaway.
Open to US residents only.