This post may contain affiliate links. Read my disclosure policy here.
Thank you so much to all of you who voted for us at the Share the Love Awards.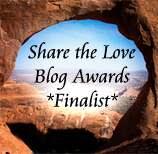 5 Minutes for Mom is a finalist in the "Woman Power! Best Representative of Women!" category. Wow – what an honor!
It is so wonderful to be nominated in this category because representing all you fantastic women – bringing you encouragement, traffic and support as you do the hardest job out there – being a MOM! – is what we are all about. We love to feature your blogs, stores and sites and all the great things you are doing. You are 5 Minutes for Mom – so thank you for being a part of our site and for voting for us.
(Personally I found voting so difficult! Trying to choose one blog to vote for in each category was impossible – each one is fabulous! So for those of you checked our name – we really appreciate it. I know it was not an easy decision!)

Voting will continue until midnight on February 13th.