This post may contain affiliate links. Read my disclosure policy here.
Guest Contributor Annemarie Rossi shares 5 tips for healthy snacking. This post does contain affiliate links.
Snack time is one of the most challenging times of day to eat healthy food. We often find ourselves hungry when we're on the go, and we end up grabbing whatever we can get our hands on. Packaged snacks are typically low on the nutrition totem pole, full of sugar, sodium, and unnecessary additives.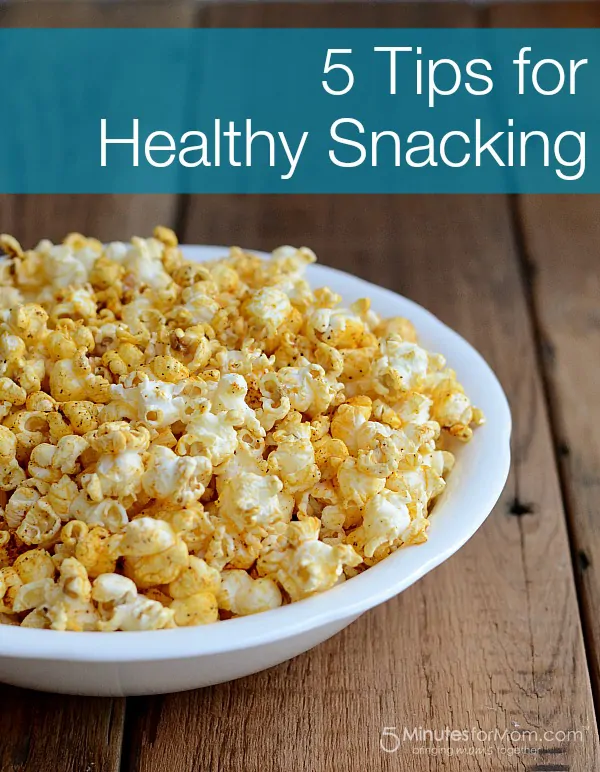 "Junk food may taste good and fill your stomach temporarily, but it isn't productive. Good snacks add value; they don't just silence your growling stomach." –
Conquering Your Kitchen
, page 102
With a little planning and preparation, snack time can be as healthy as a sit-down meal. Including protein, fiber, and not too much sugar in your snacks will help keep you feeling full and energized until your next meal.
Here are five tips that will help keep things healthy when you're eating between meals:
Have fruits and vegetables as part of every snack.
We're advised to eat at least 5 servings of fruits and vegetables every day. A good way to cover this quota is to include produce whenever you're snacking. You can pair produce with a higher protein dip like hummus, bean dip, or lightly sweetened yogurt to put together a complete snack.
Fill your freezer with homemade baked goodies.
Homemade granola bars and muffins are almost always more nutritious than the store-bought versions of these foods. It's okay to have some packaged snacks on hand in your pantry, but only use them as a backup. Stock up on muffins, breads, and granola bars, and keep them in the freezer for when you need them.
Keep healthy store-bought snacks on hand.
When things get busy and you don't have time to bake homemade snacks, choose wisely at the grocery store. Better options include whole grain pretzels or crackers, Larabars or other no-sugar-added energy bars, single-ingredient brown rice cakes, popcorn kernels, nuts, dried fruit, fresh fruit, vegetable strips, and cheese.
Include snacks in your meal planning.
Plan out your snacks for the week ahead of time so you know you'll always have healthy options available. Without a plan, it's just too easy to stop at the bakery or vending machine for a sugar-loaded treat when you're hungry. Visit this post to learn how to meal plan. It makes life so much easier!
Keep yourself hydrated.
Sometimes when you think you're hungry, you're actually thirsty. And by the time you're thirsty, you're already a little dehydrated. Keep a water bottle by your side at all times, especially in the summer months. Add a squeeze of lemon juice to your water, or infuse it with other fruits and fresh herbs. This will make you want to keep drinking.
What are your tips for keeping snack time healthy? Please share them with us in the comments.
Annemarie Rossi is the author of Conquering Your Kitchen and the creator of Real Food Real Deals. Her website provides recipes and tips to help families eat real food on a budget. Annemarie's work has been featured in many places, including the Non-GMO Cookbook, Edible Boston magazine, Fox News Online, Babble, and Spry Living. She lives in the Boston area with her husband and two children.