This post may contain affiliate links. Read my disclosure policy here.
Were you a child of the 80s?  Did you love Choose Your Own Adventure books?  I know I sure did, and when my fifth grader mentioned he had read one at school and really liked it, it brought back fond memories.  I loved that the book didn't end only one way, and you never knew where your choices would lead you.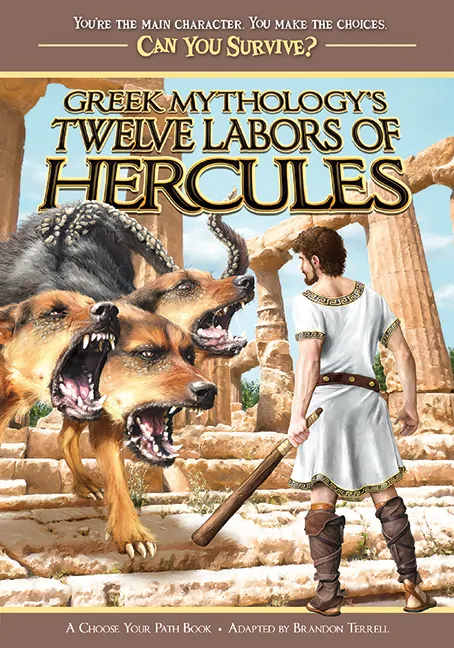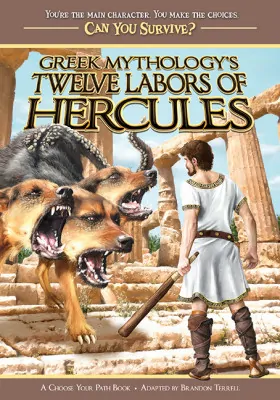 Greek Mythology's Twelve Labors of Hercules, adapted by Brandon Terrell, is one of several books in the Choose Your Path series in which classic novels are turned into a new story where the reader must decide how the story will proceed. It begins with the main character (you) hiding from a bully in the school library, where you notice dusty versions of classic books, one of which is vibrating.  You must make the first of many decisions – take the book from the shelf, or ignore it and continue hiding?  As you make your way through the story as Hercules on his twelve labors, it's not always clear which is the best option and which will lead you to death.
These books are a great way to introduce classic literature to middle graders and my son loved the Hercules aspect. The deaths can be a bit gruesome, as Hercules's labors were intentionally difficult and dangerous, but most readers will not be bothered by them.
For a peek into another book in the series, click over to Jennifer's review of Call of the Wild on our sister site, 5 Minutes for Books.
ABOUT THE BOOK

The goddess Hera is out to destroy you. Your only hope is to gain immortality, which can be done by completing twelve perilous labors. You are the mighty Hercules. You must use your super-strength to defeat the many-headed Hydra, to escape from an angry giant, and to complete ten other amazing feats. Do you have the power and the cunning to succeed, or will your battles with mythical creatures lead to your doom? Step into this adventure, and choose your path. But choose wisely, or else…
Win it!  One lucky winner will receive the following prize package of Choose Your Path middle grade books:
Alexandre Dumas's Three Musketeers
Bram Stoker's Dracula
Greek Mythology's Adventures of Perseus
Greek Mythology's Twelve Labors of Hercules
H. Rider Haggard's King Solomon's Mines
Howard Pyle's Merry Adventures of Robin Hood
Jack London's Call of the Wild
Jules Verne's 20,000 Leagues Under the Sea
Robert Louis Stevenson's Treasure Island
Sir Arthur Conan Doyle's Adventures of Sherlock Holmes