This post may contain affiliate links. Read my disclosure policy here.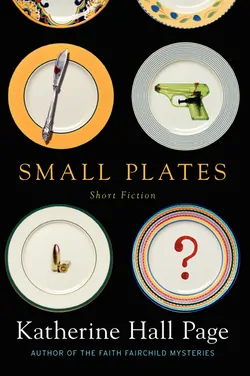 On a recent weekend away with friends, I couldn't sleep. I wasn't comfortable getting up to read, and turning on the light would wake my husband, so I decided to check the kindle app on my phone for something. I read Small Plates and I was absolutely delighted. Not only is it perfect for late night reading, but it held up well the next afternoon, when a downpour kept us inside and I spent an hour or two reading.
So, this was obviously my introduction to Faith Fairchild, but a quick poke round author
's amazon page showed that this is a long series of books. (I know! Squee! I'm so excited to have found a new series).
Faith Fairchild is a pastor's wife in New England who also runs a catering business (but uncozily, if that makes sense. I don't like "cozy" mysteries). This addition to the series is a collection of short stories, hence the name. Even though the fact of the catering business lends itself to such bromides as "Now, Page has whipped up a tasty collection of appetizing bites" or "this new book is a feast," (both of those from the publisher), I am going to resist using culinary metaphors and just tell you that I loved this book.
In "The Body in the Dunes," Faith's vacation is rudely interrupted when a woman in terrible distress seeks shelter from her husband in Faith's vacation cottage, only to appear the next day acting as if nothing happened. Faith knows she didn't imagine the situation, and puzzles over the apparent happy couple who keep showing up wherever Faith and her husband go. In "The Proof is Always in the Pudding," Faith manages to solve a superstition that has plagued her in-laws for generations, simply through sharp reasoning and a close reading of some old letters. In "The Ghost of Winthrop," Faith undertakes to solve an apparent haunting of a valuable old house recently inherited by one of her husband's parishioners.
Not all of the collection feature Faith Fairchild. "The Would-be Widower" is a tale of a man who wants his wife to die, and his various attempts to make this happen. The ending is delightfully creepy. In "A Perfect Maine Day," Myra Peters body is found washed ashore and the whole town grieves the young bride, but the person who finds the body knows to look further. "The Two Marys" is a sweet tale of a woman named Mary Bethany who finds a baby in her barn on Christmas Eve, nestled among the goats, and how she deals with this turn of events.
Small Plates is a great collection of stories, perfect for a summer afternoon or an insomniac night or just about anything in between. I thoroughly enjoyed it and highly recommend it.
Win it!
One of you (U.S. only) will win a copy of this book. Follow the instructions in the widget below to earn one or more entries, starting off by answering the question: "What's your favorite small plate or starter course?"