This post may contain affiliate links. Read my disclosure policy here.
Guest post by Michelle Rise, homemaker, Mother of 5 and travel enthusiast.
Regardless of the day on the calendar, Walt Disney World is full of sweets and treats. My husband and I spent last Valentine's Day at the happiest place on earth and couldn't help but notice Cupid's work. Everywhere we looked, couples were holding hands. Kids were licking heart shaped lollipops and cast members cheerfully said, "Happy Valentine's Day!"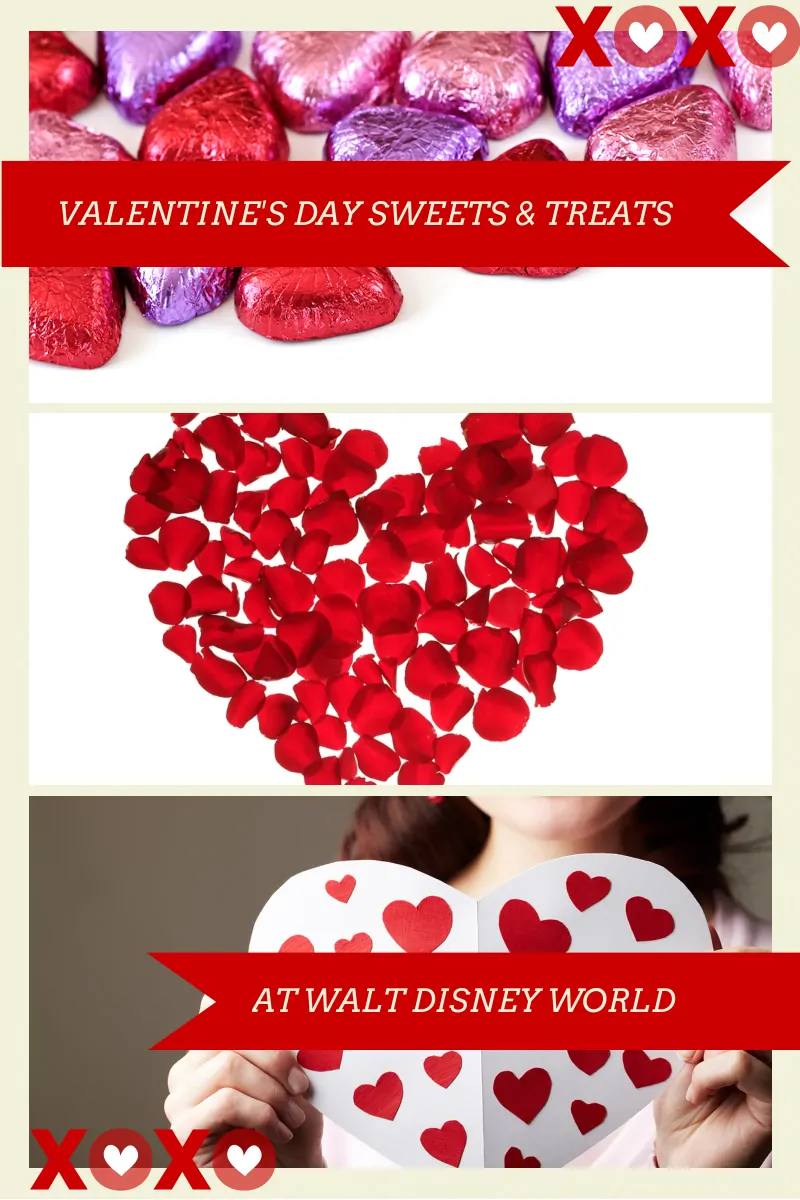 If you think Walt Disney World lacks a romantic side for couples, you'd be mistaken. So, whether you're leaving the kids with grandparents or they're all grown up, I'll let you in on a few of our favorite romantic moments at Disney.
Romantic Dinners
There's no shortage of dining options at Walt Disney World but how many are truly considered romantic? You might be surprised to know there are quite a few. Several of EPCOT's World Showcase restaurants are not only fine dining establishments, but have very romantic atmospheres.
Magic Kingdom's Tony's Town Square Restaurant with the sweet Lady and the Tramp theming is an old favorite of mine. The new Be Our Guest Restaurant in Fantasyland has lovely Beauty and the Beast theming and is very large but does have romantic nooks and crannies for two. Take a tip from one who knows how to manage Disney. If romance is what you seek for your dining experience, book a late seating. The chances of being disturbed by rowdy little ones greatly decreases with later hours.
Candy and Cake
Candy and cake are always abundantly available at Walt Disney World and Valentine's Day increases the offerings. Visit the various candy stores or displays scattered throughout the parks and Downtown Disney and put together a bundle of favorites to enjoy with a bottle of wine on your balcony later. It's a simple pleasure with a romantic flair.
Fireworks
What is more romantic than watching the fireworks displays? Did you know you can do so from the vantage point of Tomorrowland's Terrace Restaurant? A nightly dessert buffet party is hosted during the Wishes Fireworks event. I generally find Wishes to be a little sappy but thoroughly enjoyed delicious desserts with my husband while fireworks flared in the background.
Presents
I love presents on Valentine's Day even if I say it isn't necessary. Who doesn't? Check out the stores in the parks for a special Valentine's Day gift. From collectable pins to jewelry or clothes, make your day memorable with a souvenir that marks the occasion. I chose a heart charm for a bracelet while my husband bought a chocolate candy covered apple to enjoy together in our hotel room.
Attractions
Make a point to ride Astro Orbiter at night. Sharing a rocket and whirling around high in the sky with the lights of Walt Disney World and Orlando in the distance is magical if not long lasting. Three minutes is the typical time spent in motion but it's three minutes of fun romance.
If you're feeling really daring, head to Downtown Disney's waterfront and take the Characters in Flight balloon ride. This event lasts a little longer than Astro Orbiter although no less exciting. You can choose a morning flight but I'd go for the midnight flight. There is something about night and lights of the city that adds romance to any adventure.
Frankly, my husband and I both find the atmosphere in general at Walt Disney World to be romantic. This is the case regardless of the park we're visiting although EPCOT and Magic Kingdom are my personal favorites. Hollywood Studios at night has a vibrance about it that can be romantic and exciting and Animal Kingdom has a certain romance too with backgrounds that make excellent photos.
However you choose to celebrate Valentine's Day at Walt Disney World, remember the real fun is spending time together making memories. What could be more romantic?


Written by Michelle Rise is a homemaker and Mother of 5 and travel enthusiast. With many years of experience trekking through Disney parks with her Family, Michelle has become an expert on navigating families through Disney & where to stay when in Orlando. She also enjoys travel to most other destinations worldwide and when not writing about her experiences or teaching her children to drive, Michelle can be found chasing the family dog up rainbow mountain with her husband of over 25 years, Ben. You can follow Michelle on Twitter, @Rise7Up, for all of her latest writings.