This post may contain affiliate links. Read my disclosure policy here.
This month Jessica chose two of our readers questions to share with you.
Tiffany is searching for the perfect daytimer and Faith needs help keeping her sons shirts in order.
From: Tiffany
Message: I am looking for a day planner that allows me to block out one day at a time (1 day on 1 page), but the only ones I can find are huge. Any suggestions would be appreciated. Thank you!

Jessica says:
Greetings, Tiffany, interesting question…I may need a bit more information about what size were you looking for, as many books have specific templates for their pages with their own particular hole punches and paper sizes. For example, the most popular books are DayRunner, Franklin Coveyor DayTimer systems. Are you using any ones of those, or just a notebook? It does make a difference if you already have a book that has a certain hole-punch, but here's the great thing: most of the calendar companies now make a hole-puncher that you can use when you want to add extra pages in your book. They are a bit pricey, but it works like a charm for me when I have something extra that I want to print out or add to my book, such as a list of emergency contacts or a soccer schedule for the year.
Here's a great resource that is offered free, a website where people have created all kinds of calendar page templates for you to download and use at no charge. They do ask for a donation, but that is up to you: A Beginner's Guide to Making a D*I*Y* Calendar. On this site, they lay out everything you need to know to make your own customized calendar date book, for way less money than the store-bought variety.
"D*I*Y Planner 3.0 is a set of free do-it-yourself templates, covers, documentation and other gear for creating your own highly customised paper planner system. A year in the making, this new version includes nearly 200 pages of forms covering life management, calendars, project planning, note-taking, health, finance, and even creative uses like writing, storyboards, and web design. With some basic supplies, the handbook, and a little elbow grease, you can create an ideal low-cost productivity system that meets almost every need."
Here's a great article on how to choose the right planner for yourself from my friend and fellow organizer in New Jersey, Ariane Benefit of Neat Living Blog: Choosing the Right Planner for You.
This is a 7-hole paper punch for about $23.00.
I think you'll find everything you need right here! Best of luck!
Jessica
Extra note from Susan:
You may also want to visit this mom-owned site http://www.trulymom.com that offers mom designed planners.
From: Faith
Message: How do you suggest I keep my young son's folded shirts neat?? It seems he always wants the shirt on the bottom and then the entire stack is disrupted! (We keep his shirts in a dresser drawer) Thank you!
Jessica says:
Greetings, Faith, I know just how you feel! A stack of shirts just doesn't work for exactly the reason you mentioned, it seems the kids either want the shirt that lives on the bottom, or the bottom shirts never get worn!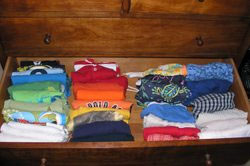 Take a tip from the travel experts: the best way to keep things neat in a drawer (or when packing a suitcase!) is to roll the clothes rather than stacking them. Once they are rolled, you just lay them next to one another in rows. It really doesn't matter exactly HOW you roll them, but if you want the drawer to look and stay neat, I would find an easy way that works for you and stick to that same technique so that all the items in the drawer look uniform.
(Photo courtesy of Neat Living Blog)
When I have done this in the past (and it seems it's mostly with kids that the rolling method comes up), the kids have loved it, the moms have loved it and it's so easy to maintain. If you want to go all out, you can even arrange the rows by sleeve length or color or whatever category suits your fancy, but I wouldn't go too crazy! After all, it's a kid's drawer and bound to get messy quickly. The best part about this way of putting away clothes is that it allows many more items to fit in the drawer.
By the way, this technique works with pants, underwear, sweaters— anything that you would normally fold. Rolling also helps keep out the wrinkles and eliminates the crease you get from folding as well.

Another way to make your closet or drawers look spiffy is by using one of these handy flip folders you've seen on TV. It's really easy to use and it makes the shirts and sweaters in your closet look like you're at The Gap!
I just did a search for 'shirt folder', this one was $20.00.
Warmly,
Jessica Duquette from
It's Not About Your Stuff