This post may contain affiliate links. Read my disclosure policy here.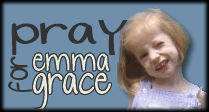 Our dear friend Heather's little girl Emma is again in need of your prayers.
Emma is a little 5 year old girl who has rare condition called mitochondrial myopathy and had a heart transplant at 5 months.
She has spent a great deal of time in the hospital and again her little heart is having a rough time and she has been admitted to the ICU for observation.
Please pray that Emma will soon be home again.