This post may contain affiliate links. Read my disclosure policy here.
The Sony VAIO Tap 20 is a portable desktop with a 20 inch touchscreen LCD that can move from room to room and family member to family member with ease.
Janice Croze, co-founder of 5 Minutes for Mom, reviews the Sony VAIO Tap 20 Mobile Touch Desktop as part of the Sony VIP Mom Blogger Program.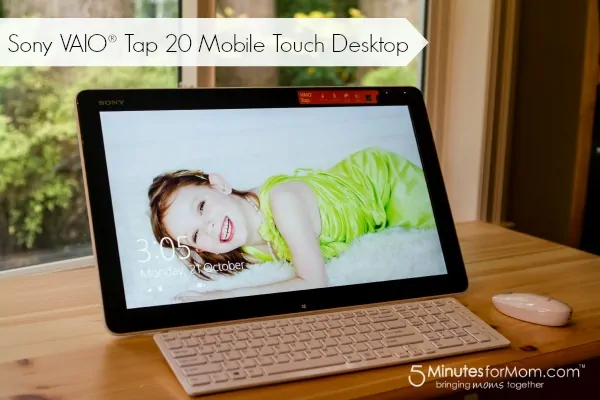 I haven't had a desktop computer for well over a decade. I simply can't make that kind of a commitment to one room.
I am always on the move – even at home. Sometimes I escape the family room and the din of the television or the kids playing mini-hockey so I can focus and work. Other times I plunk myself in the center of the chaos to multi-task my way through the afternoon.
And when it comes to my kids and their computer habits, well, they are moving too. My six year old needs to be near me if she is at the computer and my eleven year old needs some quiet as he works on his homework, but I don't want him un-supervised in his room.
For us, our PC's must be portable. So, as much as I would like a larger display and a more ergonomic set up than a laptop offers, a desktop just isn't an option for our family.
UNTIL… the Sony VAIO Tap 20 Mobile Touch Desktop. Yes, this baby can move with us. With a powerful battery, a folding, adjustable stand, and a weight of under 11.5 pounds, the VAIO Tap is easy to move wherever we want to go.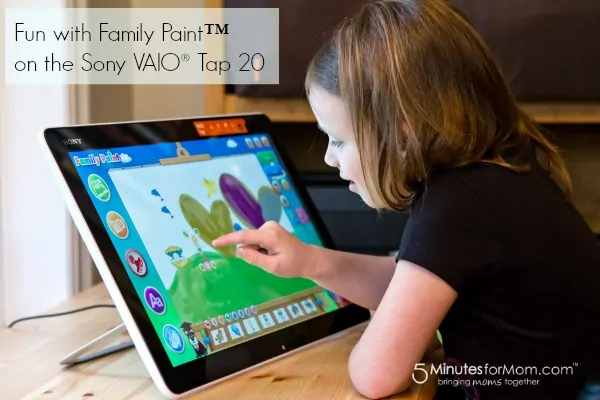 The 20″ 1600 x 900 touchscreen LCD is equipped with IPS (in-plane switching) technology which displays a crisp image from any viewing angle — and allows more than one person prime viewing position. (Yes, when your kids are trying to watch a video together, you won't have one kid fussing that they can't see the screen properly.) And the touchscreen makes it super fast and easy to use in whatever position you choose — even laying flat like a tablet.
This PC wowed my kids and they LOVE it! Whether they are doing their homework, viewing videos, playing games, or creating their own works of art, the VAIO Tap is the computer my kids want to use.
Our Highlights of the Sony VAIO Tap 20
With every computer, there are pros and cons and it can take some configuring to make a machine meet all your needs. When it comes to the Sony VAIO Tap 20 Mobile Touch Desktop that we reviewed, there were several stand out features that thrilled us all.
Portability
As I said, the need to move machines from room to room in our house is a necessity. Our family needs the flexibility that laptops – and now the VAIO Tap 20 – affords. I love that I can easily move the VAIO Tap 20 from the kitchen table, to the dining room, to the family room, to the couch… you get the idea. It isn't as mobile as a tablet or laptop, so you won't see me taking it to the coffee shop, but you will see me moving it to different areas of my house.
Touchscreen
There is something about a touchscreen computer that makes using it so much fun. While it can take a few minutes to get used to navigating your computer on a touchscreen, it quickly becomes an indispensable feature, especially when you are using the computer in a flat position, like a tablet. The touchscreen allows this desktop to truly be portable and multi-functional.
See and Be Seen
Thanks to Sony TV technology, the VAIO Tap 20 benefits from the Mobile BRAVIA® Engine, creating rich, deep colors. And with the IPS display, you can view the screen at a huge variety of angles. The built-in webcam and microphone, along with the Exmor® sensor, allows you to capture great video — yay for chatting! It would be nice have the VAIO Tap 20 come with an HDMI-in port, but since most of us are streaming movies through Netflix, etc. it is not a major issue.
Audio
The VAIO Tap 20 sounds as good as it looks! Despite its thin width and light weight, the VAIO Tap 20 has 2 speakers and a subwoofer which sound great. I am not sure how Sony made it happen in such a small space, but this computer doesn't have me reaching for external speakers. So nice.
Family Paint™
My kids FAVORITE part of the Sony VAIO Tap 20 is the Family Paint™ software that has comprehensive drawing tools including size-adjustable colored pencils, crayons, markers, stamps and an eraser. As well, on the VAIO® Tap, you can choose a split screen so more than one person can draw at a time. Brilliant!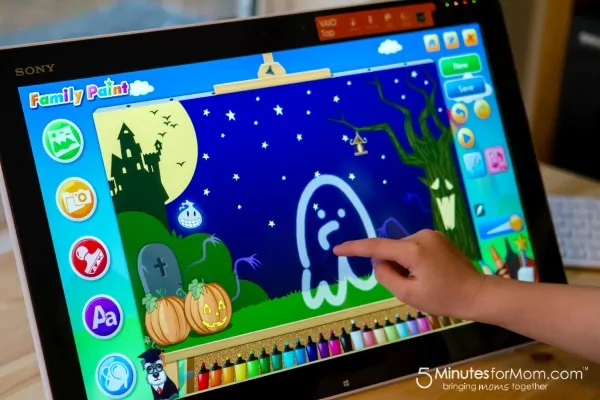 And if you like to work those paintbrushes too, the VAIO Tap has ArtRage® Studio Pro which includes a wide range of professional painting and drawing tools, such as oils, watercolors and inking pens, as well as realistic color blending, Photoshop® compatible filters and post-spray editable stickers.
The Sony VAIO Tap 20 and the New Sony VAIO Tap 21 — Great Family Friendly PCs
As you can tell, I am a fan of the Sony VAIO Tap 20 Mobile Touch Desktop. It is a super fun, functional, and practical PC for families that provides an alternative to a traditional desktop.
Now, Sony has just released the NEW VAIO Tap 21 Portable All-in-One Desktop, the successor to the Tap 20.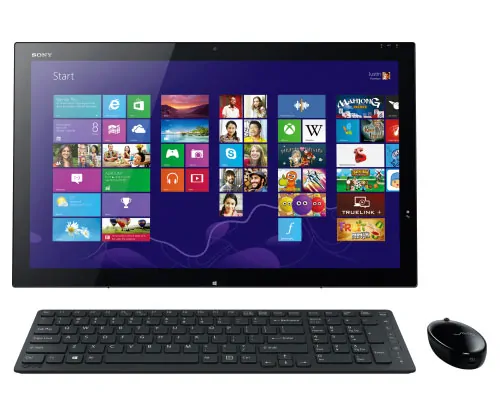 There are some exciting upgrades in the newer customizable VAIO Tap 21 Portable All-in-One Desktop. The display on the VAIO Tap 20 is 1600 x 900, and I would prefer a higher resolution. The Tap 21, however, has a full HD 21.5″ IPS touch display with a resolution of 1920 x 1080. Also, instead of the 3rd gen Intel® Core™ i5-3337U with the VAIO Tap 20, on the VAIO Tap 21 you can choose between the 4th gen Intel® Core™ i5-4200U or the Intel® Core™ i7.
And as if the Tap 20 wasn't cool enough in its sleek design — the new Tap 21 is 50% thinner and a couple pounds lighter than even the Tap 20. Incredible!
The Sony VAIO Tap 20 Mobile Touch Desktop and the VAIO Tap 21 Portable All-in-One Desktop both start at under $1000 and are great solutions for families looking for a family PC that goes beyond a laptop but doesn't tie them to one room in the house. With their beautiful, rich colors, quality audio, responsive touchscreen LCD, and sleek, portable design, these are truly fantastic, family-friendly PCs.
Does your family have a desktop computer or are you a laptop only household?
To find out more about Sony, visit them on Facebook, Twitter, and Pinterest.
We participated in the Sony VIP Mom Blogger Program by Sony Electronics where mom bloggers had the opportunity to test and review Sony gear.
Written by Janice Croze, co-founder of 5 Minutes for Mom.
Wanna chat? Find me at: @5minutesformom, @janicecroze and Facebook.com/5minutesformom.