This post may contain affiliate links. Read my disclosure policy here.
Michelle, 5 Minutes for Mom contributor, is here to share her insights into Kids Formal through this review and giveaway. While we were compensated to write this post, our writers views and opinions remain her own.
Little Miss may not be a complete girly girl, but she loves wearing dresses for special occasions, so long as they fit her basic criteria. A dress has to be a color she likes. It has to be comfortable to wear (nothing itchy for my princess). And she really likes it when it poofs out when she twirls. Fortunately, Kids Formal offers plenty of selections that are right up her alley.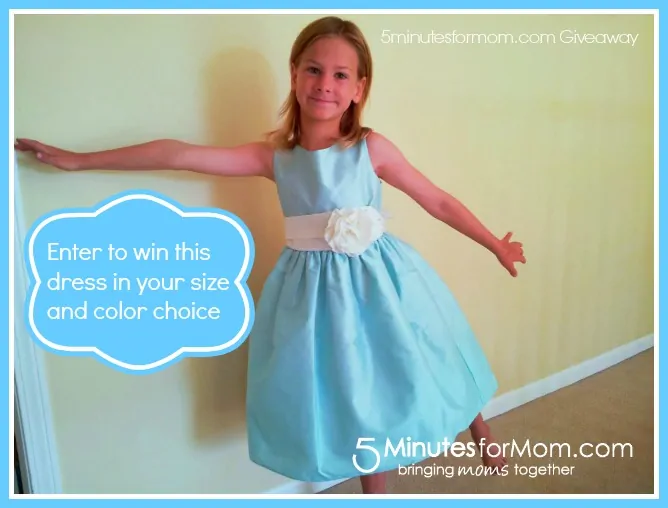 As a mom, I care that the dresses are cute and that they fit well.  The fact that they aren't overly expensive – and at $55 for the special occasion dress Little Miss received, I'm happy.
As a bonus, Kids Formal also offers free standard shipping, with upgrades available from USPS Priority Mail to FedEx overnight for when you really need that special occasion outfit right away. And if there are any issues with an item, you can return or exchange it within 30 days of the shipping date.
Little Miss received a beautiful tea length dress made of dupioni, a special kind of silk that is rougher than traditional silk but resists wrinkling well, something to keep in mind with children.
Amazingly, it is not dry clean only, and you can hand wash it in cold water, which is a huge bonus for me. The dress comes in three beautiful colors: pink, canary, and seafoam. When Little Miss saw her options, she was immediately hooked on the seafoam.
Once we chose the color, I used the size chart for the item to select the best size for her, which made it easier to guess which size my tall but skinny girl would need.  Having measurements of the dress for waist, length, and bust was helpful. This dress, like so many others in the Kids Formal collection, comes in sizes ranging from six months to girls size 12.
When the dress arrived, Little Miss couldn't wait to put it on. Though I could see that the dress had a flower on the front of the sash, I had no idea of the detail it included until I saw the dress in person. I was impressed by how gorgeous it was, from the silk to make the flower to the pearls inside it.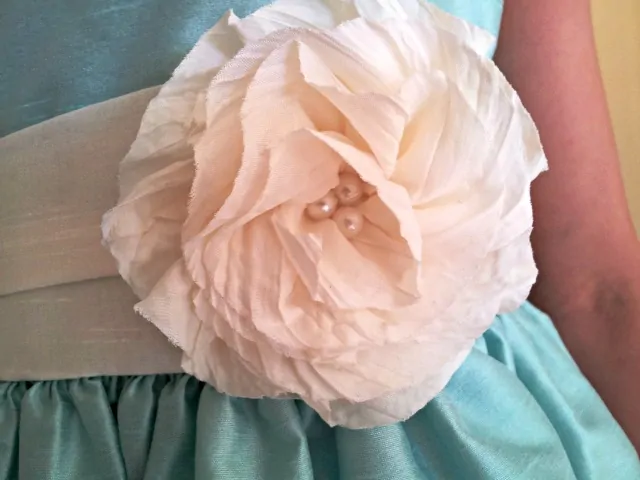 The dress was just as beautifully made. It fit Little Miss to a T, and her criteria, too.  It was comfy, it didn't itch, and oh yes — did it twirl. Personally, I think it was super cute, and I can't wait for her to wear it to a mommy/daughter tea coming up. She was so happy with it that she took off down the hall, twirling and leaping with joy. And no, that doesn't happen often here.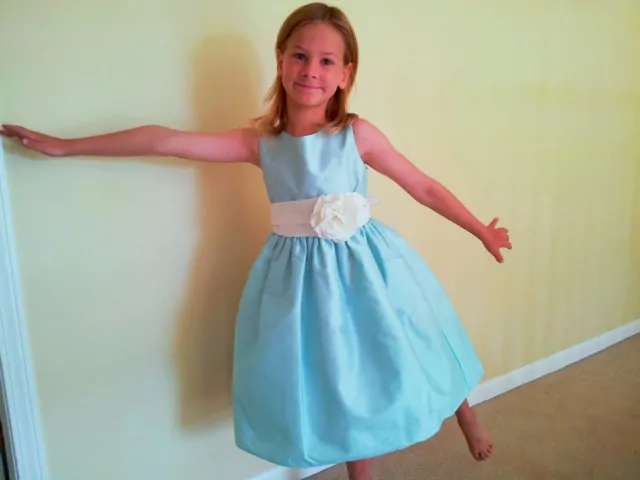 In addition to little girl dresses – which run the gamut from holiday dresses to christening and communion gowns to pageant dresses to flower girl dresses – Kids Formal also sells accessories and shoes for the dresses. Even better, Kids Formal sells the accompanying outfits for boys from tuxedos to vest sets. Again, offerings come in sizes from infant to size 16, each with the same free shipping offer and return policy.
The next time you're looking for a special occasion dress, you know where to look. This was far cheaper than the special order flower girl dress we purchased for Little Miss (that she hated because it was itchy) last year, and since all orders ship quickly and are in stock when you order, you don't run the risk of something not fitting eight weeks later when you're in panic mode. I'll definitely be visiting again!
Enter to Win
One lucky reader is going to get their chance to win a dupioni dress just like this one in your choice of available size and color. Use the Rafflecopter form to enter this giveaway. New to Rafflecopter? Watch this 45-second video on how to enter!
a Rafflecopter giveaway
Michelle may never stop running around Chicagoland, but she always makes time for the important things in her life – her wee ones, cooking, reading, and spending time with friends – and of course, writing. You can see what she's up to on her blog Honest & Truly! or on Twitter where she tweets as @HonestAndTruly.