This post may contain affiliate links. Read my disclosure policy here.
Jennifer Donovan, 5 Minutes for Books managing editor, is here to share her love of audiobooks with you. The review copy and giveaway is courtesy of Simon & Schuster audio.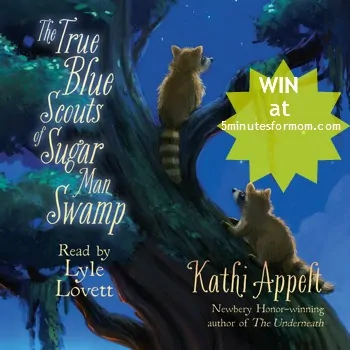 I don't know about you, but I admit that our summer has been filled with many many more hours of screen time than I would like. With a nine-year-old boy in the house, his requests to play computer (Minecraft, anyone?) are incessant! And honestly, though I wish things were a bit different, we've also spent  a lot of time hanging out with friends and swimming in our pool. In a couple weeks, we'll go on vacation, which is always a great way to grow as a family, creating wonderful memories.
Here are some of my favorite ways to enjoy audiobooks with my children:
Take along an audiobook on CD (or plug in your ipod) for a family listening experience on a long car trip. Some families I know have an audiobook going all the time to help them enjoy something together on all the random car trips that happen throughout the week. Listening together is an opportunity to laugh together and grow closer, which beats being plugged into our separate devices.
If your child doesn't like to read (or can't read yet), load up his or her ipod with an audiobook as an alternative to DVDs or video game entertainment on a long car trip or a plane ride. My son is going to be listening to The True Blue Scouts of Sugar Man Swamp on the plane on our trip.
Make chores more fun. I have to admit this is one of my favorite tips. I always have an audiobook loaded on my ipod, and I listen while I'm doing dishes, cooking dinner, or cleaning closets. It almost — almost — makes me look forward to that time. My teenage daughter listens to them while she's cleaning her room or drawing. And because I also listen to a lot of the YA audiobooks she listens to, we can talk about them later.
Save your voice. I love reading aloud with my kids, and still do read with my almost-15 year old daughter and my 9-year-old son. We read at breakfast, while I'm making dinner (if I can get them to read to me), and occasionally at bedtime — though I'm usually worn out by that time of night. Instead of reading, let someone else do the work! Some audiobooks really take it up to the next level. Lyle Lovett reads The True Blue Scouts of Sugar Man Swamp. This book is told as a story, and he has the perfect bedtime story voice, so it's been a pleasure to listen to. Click through that link to hear an excerpt.
Read my full review of The True Blue Scouts of Sugar Man Swamp by Kathi Appelt over at 5 Minutes for Books.