This post may contain affiliate links. Read my disclosure policy here.
It was bad enough that his fifth birthday is breathing down on me, threatening to officially turn my baby into a full fledged boy, but then this happened…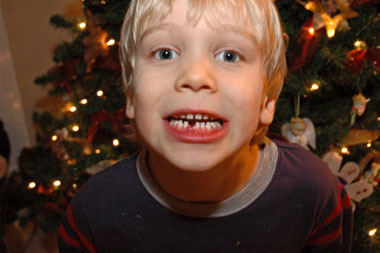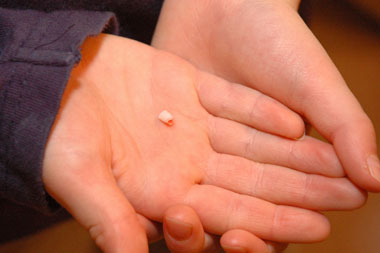 Yes, my still four-year-old lost his first baby tooth!!! Pick me up off the floor – this is a bona fide rite of passage and I am not ready!
It had never bothered me before. Every new age and stage I greeted happily, cherishing the new wonders of it. I am blessed that my boy is and always has been a snuggler – I am always getting a nice dose of cuddles – so the growing up is pretty painless. In fact, I have enjoyed the new steps of independence and most of all, getting to know him better as his own person.
But a few weeks ago, I started to feel the weight of this "turning five" thing. I mean five is pretty old. I remember being five! I remember feeling quite grown up. It is startling to think that Jackson is almost five.
And now my little boy is already finished with one of his baby teeth! "Thanks tooth, it has been nice – but I am moving on to bigger and better things." And I worry deep inside, "One day will he be finished with me?" One day he will be finished with cuddles and kisses. One day, he will read himself to sleep. One day, he won't even be falling asleep under my roof.
So, as I try to deal with this tooth trauma, my little man throws me another curve ball: at the dentist today, he went in all by himself! He had an exam, cleaning, fluoride treatment and x-rays, without a fuss, without a mommy standing close to calm his fears. I sat in the waiting room!!!
Yes, I was proud – so proud of him! I remember being seven and still crying for my mom to stay in the room with me at the dentist. So yes – I am relieved and so proud of my little man. But it sure feels strange to see my little boy growing up so fast.
Fortunately it isn't all over. He still wants tons of snuggles and stories. He still wears cute hockey pajamas and bounces around like Tigger. But it is happening – yes it is – whether or not I am ready.