This post may contain affiliate links. Read my disclosure policy here.
This Spring learn how to accentuate your baby bump instead of hiding it behind over sized shirts and baggy pants.  Maternity clothes can be very stylish and fun and do not have to leave you feeling over-exposed.
It's all about bright hues, florals and most importantly comfort, so for all you pregnant ladies out there, here are few pieces that that you can add to your closet. It will leave you feeling and looking like one hot mama-to-be.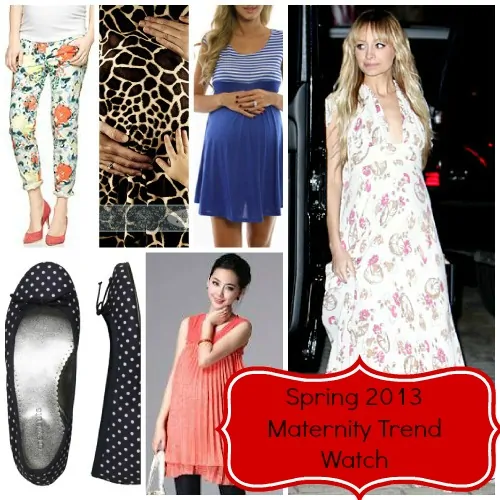 Spring 2013 Maternity Trend Watch
Spring is brighter than ever! Don't expect a day-glow orange, but rather a matte version that looks just as polished.  Cue to Beyonce's big reveal at the 2011 VMAs, who flaunted her baby bump in a fiery orange one-shoulder wrap dress.
So technically this isn't a maternity dress, but a maxi dress is an essential piece for every mom-to-be.  Not only is a maxi-dress comfy and stylish, but can worn from day to night.  Pair it with a (sensible!) pair of heels or ballet flats to complete the look.
Floral prints are big this season and its the perfect addition to any Spring wardrobe. Try on a pair of floral maternity pants and/or top for an added feminine touch.
There were a lot of prints on the runways for spring 2013. Pretty floral prints, exotic prints and classic polka dots are just a few of the many prints that sprinkled the runways.
Colorblocking dresses continue to be on trend this Spring. Mix and match colorful separates to create a cheerful combination worthy of a bright Spring day.
Which maternity trends are you planning to indulge in this season?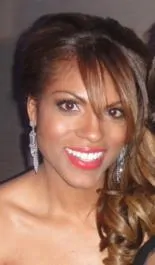 Gina Pomponio is the founder of Mommy Posh, a mom fashion blog about getting-and-staying fabulous during motherhood. Gina lives in Westchester, NY with her two boys and husband of 12 years. As a stay at home mom, Gina continues to indulge in her favorite pastimes, with weekly manis and pedis, teaching Zumba classes, being an Independent Stylist for Stella & Dot and of course enjoying date night with her hubby. For more tips on mom 'me' moments and being a posh mom, follow her on Twitter.