This post may contain affiliate links. Read my disclosure policy here.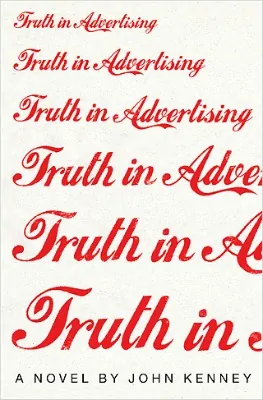 Finbar Dolan is almost forty, recently unengaged, out of touch with his family, and a copywriter for a NYC advertising agency, mostly focusing on diaper campaigns. While that intro might give the impression of a somber novel ahead, I can reassure you that in John Kenney's deft hands, the resulting Truth in Advertising is both uproariously comical and deeply tender. Perhaps sometimes the biggest sad-sacks make for the funniest storytelling.
Right from the start, the voice of Fin is crystal clear. This guy is sharply witty, heaping on mounds of self-deprecation and taking part in clever rapid-fire dialogue that keeps the reader on his toes. Fin relishes in his role as narrator here, revealing bits and pieces of a story in one chapter, only to fess up a chapter or two later about the parts that he left out. While he's happy to indulge the reader in hilarious descriptions of everything that goes into a commercial shoot, complete with lively commentary about the various personnel on the job, Fin is less forthcoming about his personal life. Eventually, his story is laid out, and in the painful telling of a childhood filled with abandonment and loss, the tone of the novel gradually shifts from absurdly hilarious to complexly emotional.
I can't help but report that I devoured this novel in less than a day, and much of the first half of the novel I read aloud to my husband because I desperately needed to share the biting style of writing that was slaying me. There were times that my words were barely audible over my gasping giggles, with my husband doubled over in laughter, wiping the tears from his eyes. Though out of context, these passages are just a couple that had me in stitches:
"Her colleagues nod. It's as if they're wired to Jan. Almost all are texting, talking on wireless headsets, tapping an iPad. Unless you are connected you are not alive. Earlier I heard one of the clients in the toilet on a conference call, his voice strained at times from peristaltic exertion."

"I sit at the bar and drink a beer and enjoy a knockwurst (as you do on Christmas Eve) and the musical stylings of Surf 'n' Sand, a seventy-ish-year-old couple, he on piano, she holding a microphone and making noise into it with her mouth. Some might call it singing."

"The company had a new drug that helped relieve what the account team referred to in meetings and emails as "NVD," which I soon found out was pharma-speak for the family of symptoms known as nausea-vomiting-diarrhea. So Ian and I thought it would be interesting to personify them. We'd cast guys who looked like they might be nausea or vomiting or diarrhea. The amazing thing was how many actors in New York and Los Angeles actually look like nausea, vomiting, and diarrhea.

Seriously, I cannot adequately describe how hard I laughed. Just as I was secure in the knowledge that John Kenney was my new favorite comedic novelist, he shocked me with some punches to the gut as Fin's back story was revealed, and he struggled with the idea of making amends with his past. I discovered that as good as he was at funny, he was equally as talented in conveying an intricately nuanced emotional story as well. Suffice it to say that the character development goes beyond the superficial for Finbar Dolan, even if that's not what he originally had in mind as narrator.
At 5 Minutes for Books, we reserve one label for the best of the best, and in my opinion, Truth in Advertising easily garners the 5 Star Reads designation. John Kenney kept with the advertising theme in the creation of a trailer for the book, which speaks very little to the plot, but provides a glimpse into the use of focus groups, to hilarious effect.
We have a copy of Truth in Advertising to give to one of you. Please follow the directions in the rafflecopter to enter to win, starting by leaving a comment telling you what appeals to you about this novel.
Book Reviewer Dawn is a book pusher, and she'll be adding this title to the list that she recommends to all her reader pals. She blogs at my thoughts exactly.