This post may contain affiliate links. Read my disclosure policy here.
We all want to be as healthy as we can be. I am sure no one reading this post would say, "Nah, I don't really want a healthy body. I prefer one that is aging too quickly and prone to disease."
But since making our bodies as healthy as possible usually takes some serious work, commitment, and sacrifice, we don't always make the choices we should.
So, when I heard about how drinking alkaline water could help balance the pH levels in my body — and that it was as easy as dropping a $15 alkaline water stick filter in my water bottle — I was sold! I am thrilled that I can make such a huge impact on my health by something as simple, inexpensive, and painless as using an alkaline water filter. (Now, if only exercising could happen that painlessly!)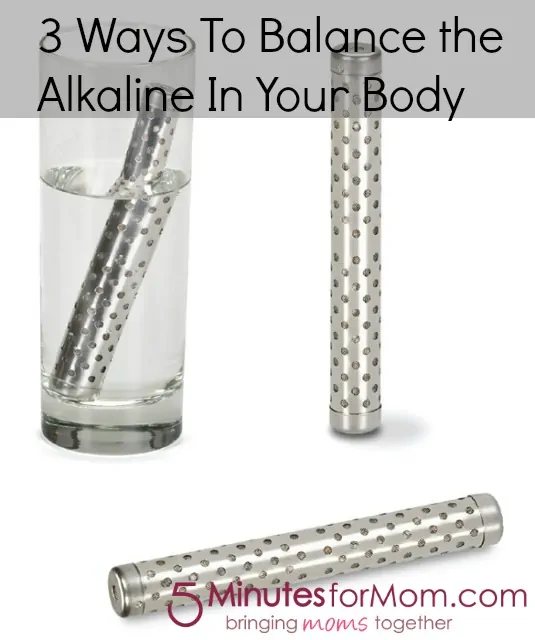 If you want to improve your health and protect your body from disease, here are three simple ways to help balance the alkaline in your body:
Eat Alkaline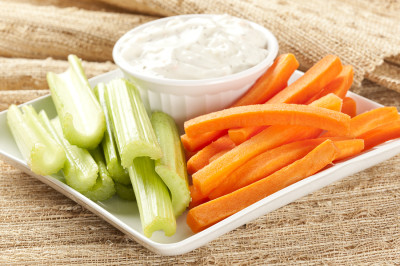 High alkaline foods decrease the acids in our bodies and blood stream. By eating a diet of high alkaline foods, you will be providing your body with the vitamins and nutrients it needs to fight off diseases and infections. Your diet should consist of 50-80% of high alkaline foods per day.
Veggies: asparagus, onions, raw spinach leaves, broccoli, garlic, and parsley. Try to eat at least 1-2 of these foods with every dinner. These are high alkaline foods that can contribute to an overall alkaline diet.
Fruits: lemons, limes, watermelon, grapefruit, mangos, and papayas. Try to eat at least one of these alkaline foods per day to contribute to your overall percentage. Although lemons and limes are typically thought of as acidic, when consumed, they have an alkalizing effect on the body.
Oils: extra virgin olive oil and Grapeseed oil. Cook with these oils in recipes or use them to make salad dressings – anywhere that you would normally use more acidic cooking oils. Try to eat at least one serving of alkaline oils each day, in the meal of your choosing.
Sweeteners: stevia, maple syrup, and rice syrup. Honey may be used, but is considered low-alkaline. Use these in the place of low alkaline sweeteners for food and beverages.
Drink Alkaline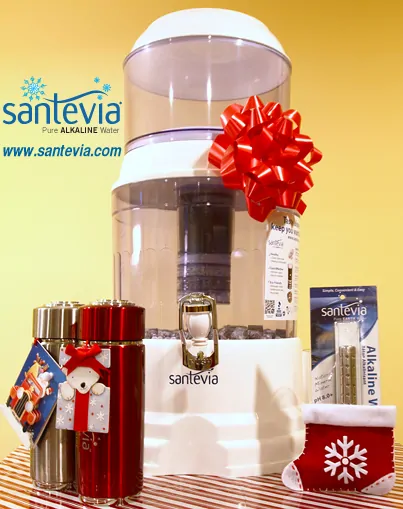 Our bodies need water to survive. In fact, we are supposed to be drinking 8-10 glasses every single day. Overly acidic bodies promote disease. Alkaline pH levels help fight disease, so drinking alkaline water helps you stay healthier. As a natural antacid, alkaline water can reduce acid reflux and help neutralize the acidity in the body to prevent sickness and some chronic diseases.
The Santevia Alkaline Water Stick is small enough to fit in a purse or pocket and convenient for traveling or the office.  The stick contains all natural compounds such as tourmaline stone, minerals stones, far infrared and calcium ion.  The alkaline water stick is simple to use, just place it in a glass of water and let the magic happen.  The stick will increase the pH of normal tap water or bottled water to a pH 8.5+.
Think Alkaline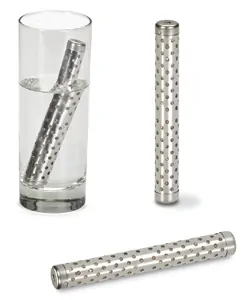 Trying to live a healthier lifestyle takes time — like any new change you make. However, by making small changes to start, like drinking Alkaline water, you will begin to think Alkaline with everything you do. I think the reason for this is because you start to feel better, so you want to continue with what will make you feel better.
As you drink, ask yourself — Will this help balance my alkaline levels? If the answer is "no", then choose something else.
If you carry around a water bottle or always have an alkaline stick with you,  you will be more likely to think alkaline when it comes to drinking or eating.
For More Information
Santevia Water Systems have so much useful information on their website. Be sure to check them out this article: Alkaline Foods Prevent Disease
Enter to win
2 winners are going to get their choice of either a Santevia Alkaline Water Pitcher or a Santevia Alkaline Stick and Tritan Water Bottle. Use the Rafflecopter form to enter this giveaway. New to Rafflecopter? Watch this 45-second video on how to enter!
We are working with Santevia to share about how important it is for us to drink alkaline water so that we can stay healthy. All opinions listed are our own.
Please Note: We are not health professionals and are not making any health claims. We are simply sharing our opinions and what we have learned about balancing our bodies' pH levels. If you have any questions about your health, please talk to your doctor.