This post may contain affiliate links. Read my disclosure policy here.
I am a very frugal shopper when it comes to Halloween costumes and decorations. I try to make home homemade items when I can, but when you are a busy mom blogger like myself, sometimes you just have to accept that you can't do everything homemade — and take the help from the stores.
So how in the world can you create a Halloween costume for each of your family members while on a budget?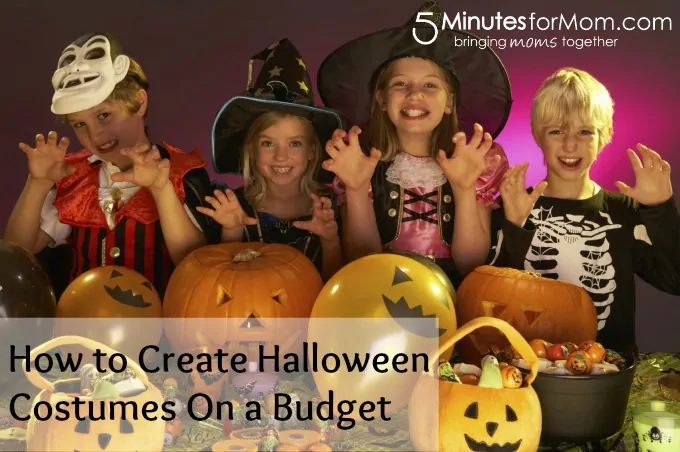 1. Shop consignment stores and yard sales.
Every year, I scour the consignment stores and look for Halloween costumes. I've been able to purchase a cowboy costume for $1.00, a pumpkin outfit for my Chihuahua for .25, and a mermaid outfit for myself for $5.00 (it was brand new and had never been worn).
2. Try to make the outfit homemade.
If you have time and are talented, you can try to create your own outfit at home. If you are like me and are sewing challenged because you are just learning, you do not want to attempt this until you learn more! You may or may not end up with one sleeve longer than the other (I speak from experience people!)
3. Search the Internet for cool ideas.
One year, someone came to a Halloween party dressed as a Black Eyed Pea. He had a green shirt on, with a Black capital "P" on his shirt. Then he had taken black shoe polish and blacked out his eye — therefore he was a black eyed pea!
4. Shop stores that have great deals like K-Mart.
One of my favorite stores to find Halloween costumes to fit in my budget is K-Mart. They always have great deals, and they think of families first when it comes to pricing their costumes and decorations.
How Much Does it Cost to Purchase 4 Costumes at K-Mart?
My family and I are attending our first every costume party this year so we are decking ourselves out for the first time! I used the K-Mart Kreator in order to find the perfect affordable costume for each of my family members.
After everything was said and done, we had spent a total of $75 for 4 adult costumes for our family. K-Mart is definitely a one stop shop for all your Halloween needs!
So what are you going to be for Halloween?
Visit K-Mart today and get the perfect costume for you and your family.
I was sent a gift card by K-Mart in order to see just how many outfits I could buy on a budget. All opinions listed are my own.