This post may contain affiliate links. Read my disclosure policy here.
You have created your masterpiece – a brilliant post on your well designed site…
You hit publish and pray that this post is the one that "makes it," the one that goes viral and takes your blog to a new level. But what can you do to give your posts an advantage, a chance to get pulled out of the crowd and shared?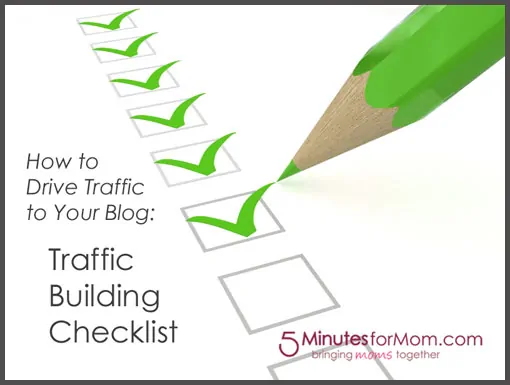 Here is a Traffic Building Checklist to make sure you are giving your posts a fighting chance out there.
I wrote this checklist along with Emma Waverman from Embrace the Chaos for a Traffic Building Boot Camp session we were leading at Blissdom Canada this month.
In this free downloadable PDF, we cover fourteen essential steps you can do to increase traffic to your website.
So, if you want to make sure you are doing all you should to increase your website traffic, hitting all the checkmarks on your way to a top blog, click here to view or download this FREE Traffic Building Checklist PDF.
If you found this post helpful, we would love it if you gave it a Stumble, Tweet, Pin, or Facebook Like. Thanks so much! We really appreciate your support of 5 Minutes for Mom.
Written by Janice Croze, co-founder of 5 Minutes for Mom.
We want to get to know you better — Tweet with us: @5minutesformom, find us on Facebook: Facebook.com/5minutesformom, or join our newsletter list.