This post may contain affiliate links. Read my disclosure policy here.
Being a mom means you have very little time to yourself. If you add in working, whether it be in or out of the home, you have even less time. You feel stretched in different directions and usually at the end day pass out in bed from exhaustion.
One thing that we have to remember is to take time for talking to God, reading His word and praying. These are things that I feel are essential to being a good wife, mother, daughter, sister…just being a good person. We have to make the time and stop making excuses. Oh I'm too busy right now, I'll get to that later. What if we don't have a later? We're not promised that. I'm guilty of this myself. I'm not preaching to anyone. I know this is true, because I've made those excuses. I've not taken the time to sit down and do this daily.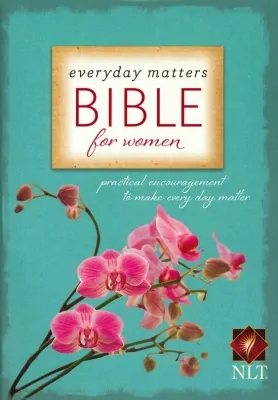 I was given the chance to review the Everyday Matters Bible for Women and was so excited when it came. The Everyday Matters Bible for Women version that I received was the NLT (New Living Translation) hardback edition which retails for $44.95. They also have a hardback deluxe edition and an imitation leather edition.
This Bible has a few extras that you won't normally find in a regular Bible that are going to really allow you to utilize it to the best of your ability.
Features
4-color printing throughout
Book introductions; which include: background information, synopsis, time period and an outline of events.
Color-coded icons identify each Spiritual Discipline addressed in contributors' material
Article, "How to Use This Bible in a Small Group Study"
Index of Spiritual Practices
Resources for further reading
Presentation page
Ribbon marker
You also have over 300 articles written by more than 140 of today's most well-known Christian leaders and writers, including: Kay Warren, Priscilla Shirer, Elisa Morgan, Nancy & John Ortberg, Richard Foster, Liz Curtis Higgs, and Lauren Winner.
It's also designed to help us read, understand, and apply spiritual discipline. It's broken down and explained in 4 ways.
Everyday Matters. Two-page articles introduce major themes and focus on an essential part of understanding and practicing a discipline.
Everyday Profiles. Profiles of twenty-five Biblical women highlight a particular discipline.
Everyday Q & A's. Short articles delve into a difficult aspect of the spiritual practice and offer practical help on incorporating the discipline into your daily life.
Everyday Reflections. Selections illustrate ways to personalize and apply God's Word to your own situation.
Reading through this Bible and looking at all of the tools we are given, I really think that this will help me grow in my faith and allow me to take the time and sit down and really comprehend what I'm reading. If you are looking for a Bible that you can rely on I would suggest you check this out. It can be purchased at ChristianBooks.com.
I was provided a copy of this Bible free for review. All opinions stated above are my own and were in no way influenced.