This post may contain affiliate links. Read my disclosure policy here.
My kids toys end up all messed up in a giant pile where they can't find anything.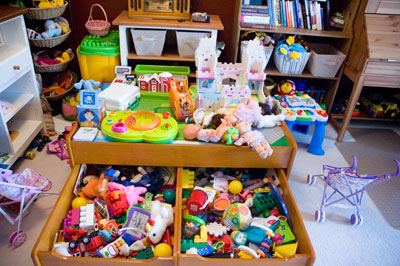 So I have tackled the mess by making photo labels for bins so that my kids can find their toys, play, and put away!
I wanted to involve my kids and my husband in the cleaning so that we tackled as a family. So we turned it into a weekend family tackle.
I got Julia really excited about the idea of the job. She told me, "I'm 4 now, so I'm old enough to help, but Sophia can't because she's still 1 and 1 year olds are still small babies."

Julia even got on board with picking out some toys to send to charity… but the pile didn't get too big.

Sophia as you can imagine wasn't too much help. She kept dumping out the bins of toys that I sorted.
But we all dug deep into the mess together. (My husband was thrilled to have us donate two garbage bags full of extra toys.)
Watch us work…
It has to get worse before it can get better…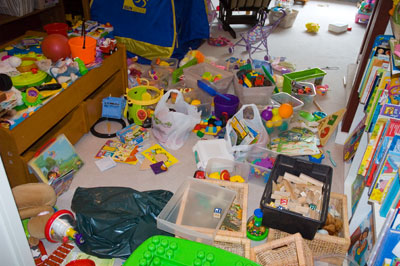 Having the family tackle together was fun, but soon Julia wore out, so she and her Daddy went to the store for supplies. Then later that night when the house was quiet, I put on the TV and plowed through the rest of the job.
My favorite part of this tackle was making the fancy laminated photo labels. I followed a great tip from one of our long-time loyal readers Laura from I'm an Organizing Junkie and bought some self-laminating sheets.
I took photos of the toys and added the name of the item to the photo. I printed, laminated, and tied the labels to the bins that had handles and taped the labels to the smaller plastic bins.
I felt like such an organizer! LOL
Yay!!! Take a look…