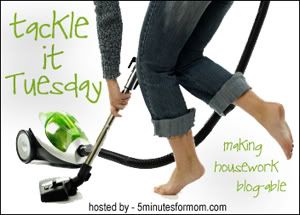 So did you watch it???
Did you see my completely humiliating video of my disastrous mess of a home?
Yes, I am doubting my sanity. No, I'm not sure why I let the entire Internet see my mess. Yes, they did send me a few greenbacks to ease the pain.
It's funny, Janice and I regularly show photos of our localized homemaking disasters, but seeing it on video brings it up a notch in sensitivity. Ouch.
Ladies, tell me I'm not entirely alone. Tell me you have some piles of laundry taking over a spare room or that toys are sometimes scattered across your living room. I know that my mess is to the extreme, but homemaking misery like this needs company.
Thank you! That feels so much better. Okay, now on with the tackle…
Do you remember this photo?
I left you all hanging. Tackle It Tuesday #156 – Where is Mr Potato Head, was "To be Continued…"
Since I was waiting to hear Trish Suhr's advice on my toy disorganization, I showed you my 'Before' photos, but there was no matching 'After'.
Well, it turns out Trish had the same expert advice as many of you…
Photo labels on the bins so that my kids can find their toys, play, and put away!
Trish also encouraged me to involve my kids and my husband in the cleaning so that we tackle as a family. So we turned it into a weekend family tackle.
As I explain in my recent post on the How I Clean Now site…
I got Julia really excited about the idea of the job. She told me, "I'm 4 now, so I'm old enough to help, but Sophia can't because she's still 1 and 1 year olds are still small babies."

Julia even got on board with picking out some toys to send to charity… but the pile didn't get too big.

Sophia as you can imagine wasn't too much help. She kept dumping out the bins of toys that I sorted.
But we all dug deep into the mess together. (My husband was thrilled to have us donate two garbage bags full of extra toys.)
Watch us work…
It has to get worse before it can get better…
Having the family tackle together was fun, but soon Julia wore out, so she and her Daddy went to the store for supplies. Then later that night when the house was quiet, I put on the TV and plowed through the rest of the job.
My favorite part of this tackle was making the fancy laminated photo labels. I followed a great tip from one of our long-time loyal readers Laura from I'm an Organizing Junkie and bought some self-laminating sheets.
I took photos of the toys and used my awesome HP Photosmart Printer to add the name of the item to the photo. I printed, laminated, and tied the labels to the bins that had handles and taped the labels to the smaller plastic bins.
I felt like such an organizer! LOL
Yay!!! Take a look…
So if you haven't watched it yet, click over and have a laugh at my video and then leave me a comment at How I Clean Now.
And then link up back here and show me your tackle.
Would you like to post as a guest tackler? Submit your guest tackles to be featured here at 5M4M. You can write Susan at tackleittuesday at gmail dot com. Remember, we are here to promote your site!
Each week on Tuesday, we are posting before and after pictures of a project or trouble area that we tackled this week.

Find out more about Tackle It Tuesday here.
The project can be little or big – whatever you want.

Basically, Tackle It Tuesday is about giving ourselves incentive, deadlines and satisfaction in getting our household tasks done.

(It doesn't even have to be housework… just whatever is on your To Do list.)
If you tackled a project this week, just add a comment and add your link below.
Happy tackling ladies…
Update: Mr. Linky appears to be down this morning. Please leave your link in the comments and check back later to see if Mr. Linky is up and running. So sorry for the inconvenience!