This post may contain affiliate links. Read my disclosure policy here.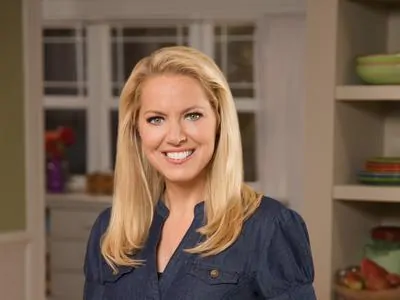 I recently had the opportunity to speak with >Melissa D'Arbian, Hidden Valley Ranch spokesperson and former Next Food Network Star winner.
I asked her if she had been following Next Food Network Star this season. "I love it!" she gushed. She went on to say that this is how she defines herself:
A wife and mother
Food Network fan
on a Food Network show (Ten Dollar Dinners)
"Sometimes when I'm watching the shows, I get so caught up in it as a fan, and I forget that I know these people — that I could just send them an email and tell them what I love about it!"
Bobby Flay says don't phone it in
I loved hearing her story of the first time she met Bobby Flay.
She stood in line for five hours to have him sign a book (Bobby Flay's Grill It!, "the best book on grilling," according to Melissa). Because book signings are always busy events, the staff was trying to move people along and telling them not to take pictures, but when Melissa got to the front of the line with her child and told him she was buying the book for her husband for Father's Day, he suggested they take a picture.
After she had worked with him on Food Network Star, she showed him the picture of their first meeting. She told him how impressed she was about how nice and personable he was after such a long day. He told her that you could never phone it in.
That's one reason that she has such respect for Bobby. He's a success because he's genuinely devoted to what he does.
Ten Dollar Dinners — inspired by her life at home
Melissa's show Ten Dollar Dinners just started its 7th season last week. Her book Ten Dollar Dinners: 140 Recipes & Tips to Elevate Simple, Fresh Meals Any Night of the Week comes out next month. With so much going on, how does she continue to get ideas?
The show and the book are culled from her own values and her own experiences as a home cook. She helps moms learn to spend with purpose. By managing your inventory of ingredients, you can stretch your budget.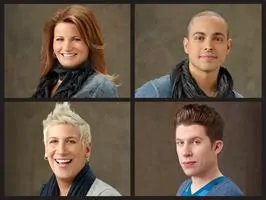 When she was a contestant on the show, they weren't able to see their film while they were competing. She likes the changes this year, which she says will help the winner be ready to actually star in a show. Both the mentoring aspects and the camera challenges are training them. On her season, some people found the evaluations as stressful, but Melissa took advantage of the opportunity to learn. The hardest part for her? Being away from her family.
Stay tuned later this week for part two of my interview which will feature mom-to-mom secrets for picky eaters from Melissa D'Arabian. In the meantime, check out the family-friendly recipes over at HiddenValley.com.
If you're a Food Network fan, you must follow her on twitter. Her feed shows that fan spirit, yet also treats her followers to all her insider information!

Will you be watching the finale of the Next Food Network Star on Sunday? Who do you think should win? Let's talk about it!
Disclosure: Like Melissa, I am a proud spokesperson for Hidden Valley Ranch. Because of that, I was given the opportunity to participate in a group interview, but as always, my thoughts and words are my own.