This post may contain affiliate links. Read my disclosure policy here.
Aren't these Red, White & Blue Rice Krispies Treat Sparklers so adorable?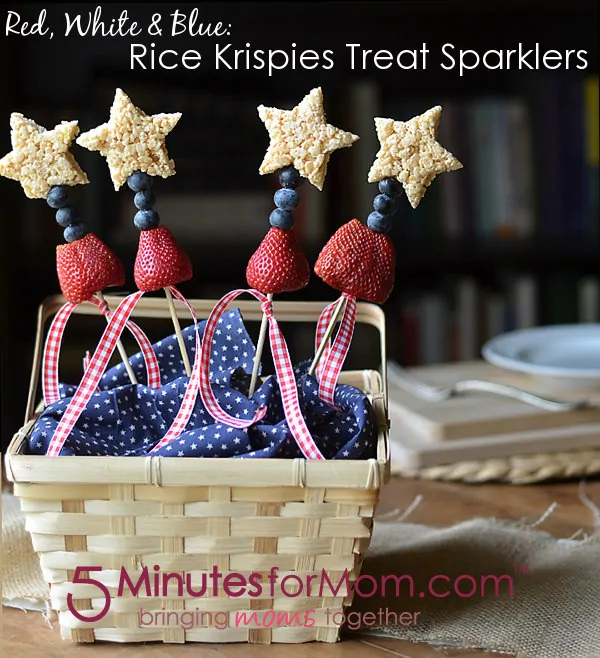 The Fourth of July — our American Independence Day — has been one of my favorite holidays since childhood, right up there with Christmas.  It's hot weather and watermelon . . . sparklers and sno-cones . . . bright streamers of light painting the canvas of the night sky.
It has always been magical for me — a day when everyone in our nation comes together for family barbeques, neighborhood block parties and city firework shows.  United we stand for a day.
As a mother, I love building upon the memories of my childhood to create new memories and traditions for my wee kidlets.  And, the beautiful thing about making new memories is that "simple" works.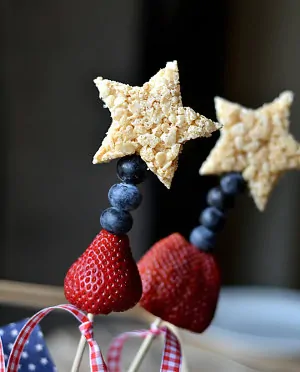 These patriotic-inspired sweets — Rice Krispies Treat Sparklers — are about as simple as it gets. . . and a sure-fire favorite for my kidlets, who had the privilege of sampling these when I made them earlier this week.
(oh, the lives of a food blogger's children!)
They were captivated by the vivid colors, the quirky stars and the fact that everything was on a stick. What is is about food on a stick, anyway?  It seems like anything on a stick — whether bamboo skewers or paper lollipop sticks — is more exciting and fun!
With these red, white and blue treats in hand, we sat outside in their "clubhouse" and talked about the coming national holiday, fireworks, and family.  And, with pleading, strawberry-stained smiles and marshamallow-sticky hands, they asked me to make the Sparklers again for Independence Day.
I think they agree with me: simple treats and simple family time make the best memories.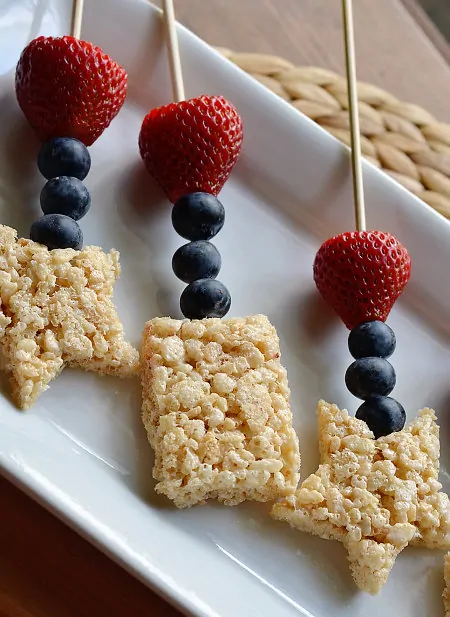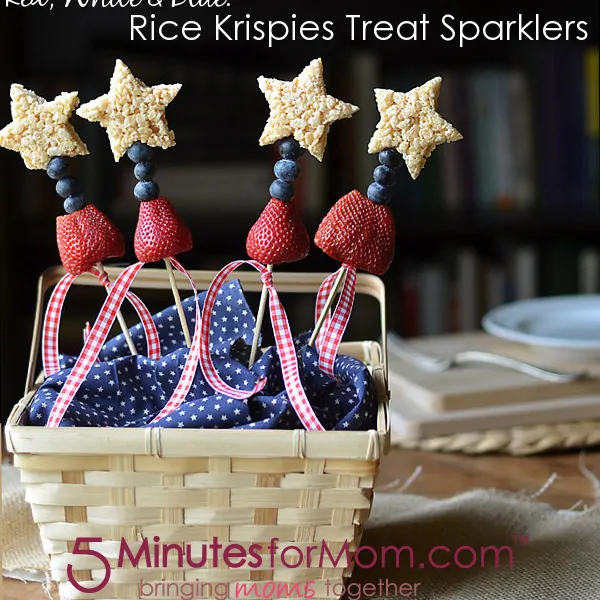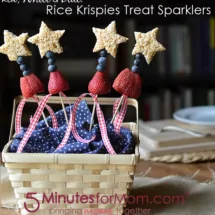 Rice Krispy Treat Sparklers
Simple ingredients come together for a fun, kid-friendly treat.
Print
Pin
Rate
Servings: 15 -25, depending on the size of your cutter
Ingredients
3 tablespoons of butter
1 10- ounce bag of mini-marshmallows
1/2 teaspoon of vanilla extract optional
6 cups of puffed rice "Rice Krispies" cereal
Strawberries one per sparkler
Blueberries 3-4 per sparkler
Star shaped cookie cutter
Food skewers or lollipop sticks
Ribbon optional
Instructions
In a heavy duty saucepan (I use a large stockpot to give myself plenty of room for stirring in the cereal), melt the butter over low heat.

When completely melted, add the marshmallows and stir continuously until melted.

Stir in the vanilla.

Remove from heat and add in the cereal, stirring until completely coated and mixed in.

Pour coated cereal onto wax paper or buttered foil and spread out to the thickness of your cookie cutter. As you spread it out, keep the mixture compact -- don't allow any "holes" to form as the cereal moves under the pressure of your spatula (or wax paper if using that to shape the cereal mixture).

Once completely flat and thin enough for your cookie cutter to go through, allow the cereal mixture to cool and firm up. (Note: if you live in a high-humidity area like I do, this may take as much as 30 minutes)

Once cooled, press your cookie cutter into the hardened mixture, remove the cut out treat from the cutter and set aside. Repeat.

Starting with the strawberries, skewer the washed and trimmed fruit onto the wooden food skewers or lollipop sticks.

Carefully add one Rice Krispies treat on to the top of each skewer.

You can tie a ribbon to the stick/skewer, just below the strawberry for more festive color (and it helps support the heavy strawberry).

Serve and enjoy!
Notes
If you want a "stars and stripes" motif, cut half of the Rice Krispies treats into bars. The vanilla is completely optional but I love the added depth it gives to this classic childhood treat.