This post may contain affiliate links. Read my disclosure policy here.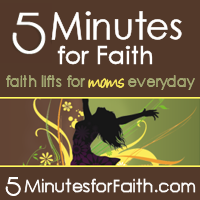 We are thrilled!!!
This week, we are welcoming a new sister site — 5 Minutes for Faith!
But really, 5 Minutes for Faith isn't a new site or a new sister at all…
Since 2006, 5 Minutes for Mom has had one special sister — Faith Lifts, a daily devotional group blog for women.
As a sister site of 5 Minutes for Mom, Faith Lifts consistently offered Biblically based devotionals support and encourage moms in their Christian faith!
But when we started the network of sister sites last year, Faith Lifts seemed a bit left out.
So, we are so excited to announce that Faith Lifts is now 5 Minutes for Faith!
For those of you who have been faithful visitors and subscribers to Faith Lifts, we thank you and we are confident that you will love the new site just as much as the old one.
And if you didn't know about Faith Lifts, now is the perfect time to come check out 5 Minutes for Faith.
Come and get to know our inspiring writers, subscribe for daily updates and even grab one of our buttons and link to 5 Minutes for Faith!
PS — We have to give a HUGE thank you to Shera, managing editor at 5 Minutes for Faith, for all she has done for Faith Lifts and now 5 Minutes for Faith.
Shera, who blogs at A Frog in My Soup, is an incredible friend whom I regularly call on for all kinds of help. Whether she is reviewing products at 5 Minutes for Giveaways, writing posts here at 5M4M, or designing buttons or websites for us, (Shera designed 5 Minutes for Giveaways and 5 Minutes for Faith,) Shera is forever saving the day! THANKS SHERA!!! We love you!