This post may contain affiliate links. Read my disclosure policy here.
When I was pregnant, I expected that my pregnancy would just be like everyone else's – yes, I was truly that naïve.  I thought that I could open up the book and follow along with each week to know what would be going on.  Little did I know that everyone has a different pregnancy experience.  In fact, my two pregnancies were very different.  I expected that I would develop all sorts of fun cravings.  I couldn't wait for when I wanted pickles and ice cream.
Silly me, of course it wasn't what I expected.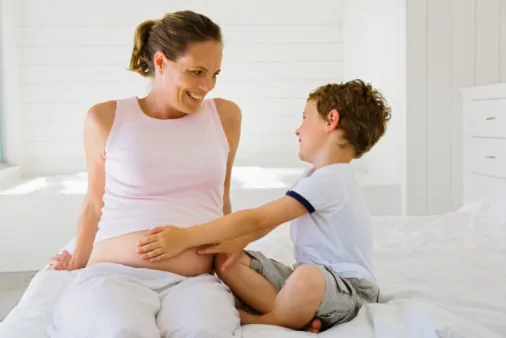 Instead of having cravings, I tended to develop revulsions.  It was many, many months after my babies were born before I could even think about touching chicken again.  And while I loved oranges for the first three or four months of my pregnancy with Little Miss, I discovered I couldn't stand the sight of them anymore after she was born (I wish I would have known that before  I had bought a twenty pound box of them!).
During my pregnancy, my body changed — I mean really changed.  I don't remember hearing about how tired I would be during pregnancy. For someone who was never able to nap,  I happily spent many days after I'd gotten home from work just sacked out on the couch. My hair went from being shiny and lustrous to just regular again.I thought about getting pregnant again, just for that gorgeous hair! It was tempting –very tempting.
For me,  I think I craved knowledge more than anything else.  I devoured every book I could find, and I couldn't wait until I was far enough along that I could take the birthing class.  The fact that I chose the weekly class that happened to be across the street from my favorite ice cream shop where I might have gotten a milkshake every single week will be our little secret, right?
Regardless of what I craved or how my body changed, nothing compares to the feeling of carrying your baby around inside of you. I loved that. I loved it so much that I did my best to take care of my body by taking prenatal vitamins.
Today, Centrum wants to help you –during your pregnancy–to take care of your body. Centrum recently released a new prenatal vitamin that helps in the growth and developement of  your special bundle of joy!
About Centrum:
Centrum Specialist®  Prenatal is a complete multivitamin specifically designed to support your baby's growth and development, plus your own pregnancy health.* It provides all the health benefits from Centrum®, the #1 doctor recommended brand. For more information on Centrum Specialist® PreNatal, visit the Centrum® – Nutrition Possible Facebook page.
Enter to win a seven day supply of Centrum Specialist Prenatal multivitamin
Ce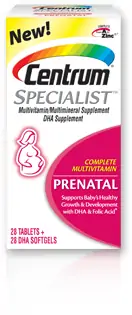 ntrum is partnering with 5 Minutes for Mom and they are giving us 100 samples of their new prenatal vitamin to give away. To enter this contest, simply leave a comment answering this question:
What are you expecting during your pregnancy? Any specific cravings or expectations?
This giveaway will end on May 30th and 100 winners will be chosen by Random.org.
In the interest of full disclosure, I am participating in a sponsored campaign hosted by Centrum Specialist® Prenatal multivitamins. I received compensation for this post. While all opinions stated are my own, I make no claims about Centrum Specialist® Prenatal as a product or its effectiveness.
Written by 5 Minutes for Mom contributor Michelle who sometimes misses being pregnant but never admits it to any friends who are currently pregnant and miserable.  You can follow the exploits of her family on her blog Honest & Truly! and on Twitter where you can find her as @HonestAndTruly.
Rules for participation:
NO PURCHASE OR PAYMENT NECESSARY.  PURCHASE WILL NOT INCREASE YOUR CHANCES OF WINNING. VOID WHERE PROHIBITED.Must be 18 or older and a legal resident of the 50 United States and DC to enter.  Not eligible: employees of  selected bloggers posting the giveaways, Ketchum, Wyeth LLC ("sponsor"), and each of their parent, affiliate or related companies ("Sweepstakes Entities"), or their immediate family or persons living in the same household.  In addition, healthcare providers are not eligible to receive a sample of Centrum Specialist® Prenatal for their personal use. Enter by submitting the required information, specified by the host blogger. Use of automated or scripted programs to submit entries are prohibited. Host Blogger will choose a winner from all eligible entries at random. If a winner does not respond within 24 hours, the blogger will select another prize winner. All decisions are final. 100 winners will be randomly selected by the blogger to win a sample of a one month supply of Centrum Specialist® Prenatal. Winners will be contacted via email by blogger. If a winner does not respond within 24 hours, the blogger will select another prize winner. Blogger must provide shipping information to Ketchum to ship samples to blogger. Odds of winning depend on the number and timing of the entries provided.  Winners must provide contact information to ship prize.  Failure to respond to prize notification or provide required information may result in forfeiture of the prize and award. Except where prohibited, winners agree that the Sweepstakes Entities have the right to use their name, city and town and likeness in any advertising and marketing material, without compensation or any right to review and approve. Sponsor: Wyeth LLC, 5 Giralda Farms, Madison, New Jersey, 07940