This post may contain affiliate links. Read my disclosure policy here.
Neida Joseph-Abel, master jewelry designer, artisan and founder of HipFusion Designs, is widely known for combining her signature fused metal clay and glass elements with other fun and funky components to create an extensive collection of imperfectly-perfect and endearing necklace and bracelet designs, including her nationally recognized mommy tag jewelry, for the hip crowd.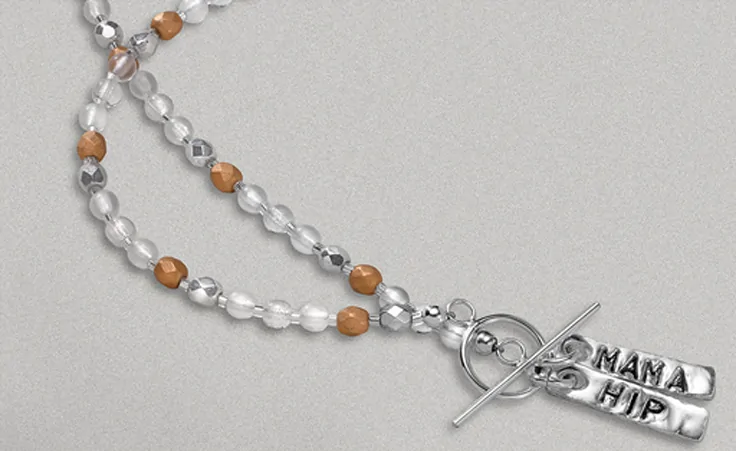 The idea behind her business has always been a clear one for Neida, which is to personally handcraft each and every piece of  jewelry.  And she is widely known for her originality by creating unpredictable designs.
"Instead of being conventional, I tend to think outside-the-box and take risks when I create my designs. I love creating layers, contrasting textures, including moveable parts, making asymmetrical looks, and giving each piece a unique feel", says Neida.

"I find that when I'm creating, I'm living life to the fullest. It's part of my everyday consciousness ~ designing and creating pieces of wearable art for my customers that not only demonstrate the results of my efforts in a loving and beautiful way, but keep my customers coming back for more."
Get FREE shipping on your order from Hip Fusion Designs
If you order from Hip Fusion Designs this week and use the code 5MINUTES you can score free shipping on your order! Not only that, but Nedia runs specials and deals from time to time through her newsletter and Facebook page. Sign up to receive both to stay in the loop on awesome deals like this one.
What's your favorite piece of handmade jewelry from Hip Fusion Designs?
Written by 5 Minutes for Mom Advertising and Communications Contact, Jennifer. You can find her sharing her thoughts at her own blog Jen's Journey. Connect with her on Facebook and Twitter.