This post may contain affiliate links. Read my disclosure policy here.
Today, Susan and I shared a conference room in Walt Disney World with 130+ attendees of the Disney Social Media Moms Celebration furiously tweeting soundbites of wisdom from an incredible lineup of speakers.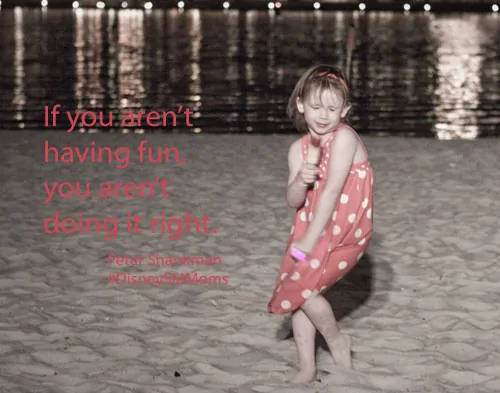 One great blogging tip when you aren't in attendance at a conference is to follow the hashtag — especially during the sessions, because bloggers like ourselves can't keep from capturing it all in 140 characters or less.
So, if you want to catch up on what the fantastic speakers at the had to say at the Disney Social Media Moms Celebration today, check out the #DisneySMMoms hashtag.
And, have FUN! Because, as Peter Shankman reminded the #DisneySMMoms today, "If you aren't having fun, you aren't doing it right."
If you like this post, we would love it if you gave it a Stumble, Tweet, Pin, or Facebook Like. Thanks so much! We really appreciate your support of 5 Minutes for Mom.
Written by Janice Croze, co-founder of 5 Minutes for Mom.
We want to get to know you better — Tweet with us: @5minutesformom, find us on Facebook: Facebook.com/5minutesformom, or join our newsletter list.
Please Note: Susan and I are co-hosts of the Disney Social Media Moms Celebration. As a part of this conference, we are receiving complimentary items, special discounts, and other benefits, such as food and entertainment so that we can experience all the magic of Walt Disney World.