This post may contain affiliate links. Read my disclosure policy here.
Did you know we are wrapping up National Grilled Cheese Sandwich month?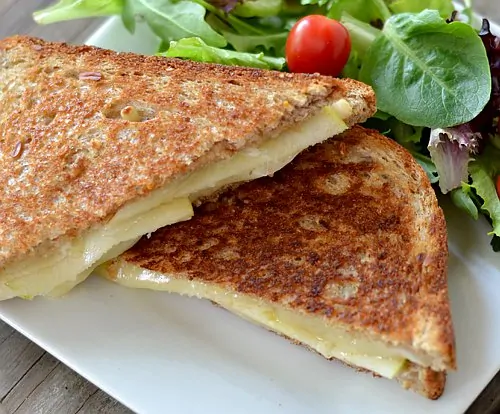 Seriously, it's true!  April has been all about Grilled Cheese, which is why we saw variation after variation of the classic sandwich popping up on Facebook and Pinterest the past few weeks.
I have always adored grilled cheese sandwiches — well, any hot sandwich for that matter.  There are very few things better than hot, gooey cheese pressed in between crusty, toasted bread.
It is good stuff.
When I was little my mom made several different kinds of grilled cheese sandwiches, with my favorite being the "grilled Cheese and Pizza Sauce" variation.  Perfect kid food.
As an adult, my palate has refined, but I still crave comfort food which is why I love this Grilled Havarti and Apple Sandwich.
Havarti, for those who haven't yet tasted it, is a very creamy, mild white cheese.  It's my favorite sandwich cheese because it brings the "flavor" to the table without completely overwhelming a dish.  And, it is a cheese that pairs beautifully with fruit, especially Pink Lady apples.  These apples have a very crisp and and tangy-sweet flesh that adds a great crunch to this sandwich.
The combination of cheese and apple makes a sandwich worthy of a picnic.  Worthy of a lazy afternoon on a hammock.  Worthy of being shared with your entire family.
It's the new comfort food.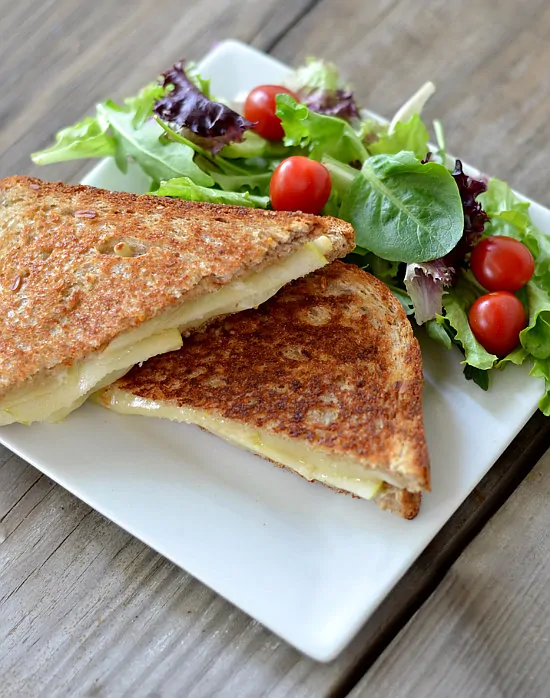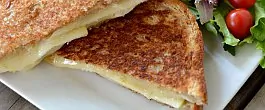 Grilled Havarti and Apple Sandwich
Creamy cheese and sweet-crisp apples form an unlikely but perfect pair for a lunch-time treat.
Print
Pin
Rate
Servings: 1
Ingredients
2 slices of whole-grain or whole-wheat bread
1 slice of Havarti cheese*
1 Pink Lady Apple thinly sliced**
1 tablespoon of Butter
Instructions
Over medium to medium-high heat, warm a saute or frying pan.

Apply butter to a single side of each piece of bread.

Place the buttered side of bread down on the heated pan.

Add a slice of Havarti cheese -- if your deli uses a wide block of cheese, it may be necessary to trim the excess if it is too large for your slice of bread.

Layer the apple slices on top of the cheese; top with a couple of small pieces (quarter size or less) of cheese, which will help hold the apple in place as the cheese melts.

Place the other piece of bread own the sandwich -- butter side up.

Grill or saute over medium to medium-heat for 3-8 minutes or until the bread begins to get brown and crispy.

Flip the sandwich using a spatula and then cook the other side until the bread is golden brown and the cheese has melted.
Notes
*I pick up my Havarti from my grocery deli and I always request that it be cut on a "three"; that thickness works very well for grilled sandwiches. ** For ease, use a mandolin to evenly slice the apples. This recipe serves one but can be easily adjusted for a crowd.