This post may contain affiliate links. Read my disclosure policy here.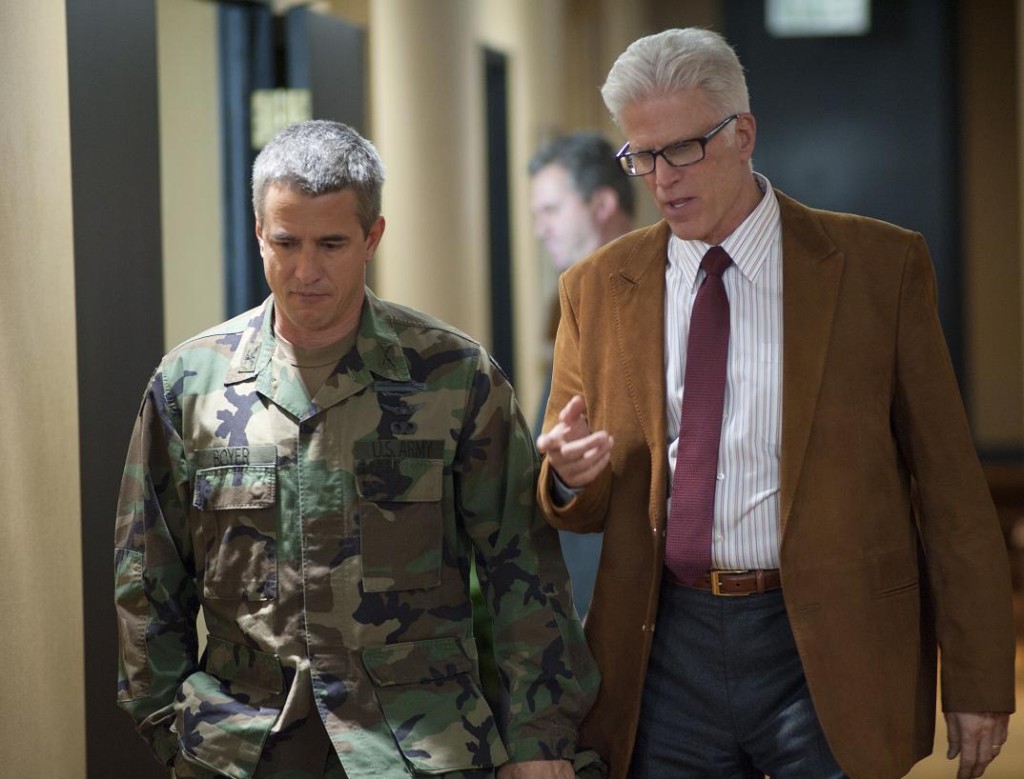 In the Big Miracle movie, there really aren't any characters who are all good or all bad. Well, except for Dermot Mulroney's character, as Ted Danson pointed out in our interview. Mulroney plays Captain Boyer, based on the real life National Guardsman Tom Carroll, who was one of the few characters with pure motives himself — though still not perfect, harboring resentment towards the Russians, as would have been the case in the Cold War era in which the event took place.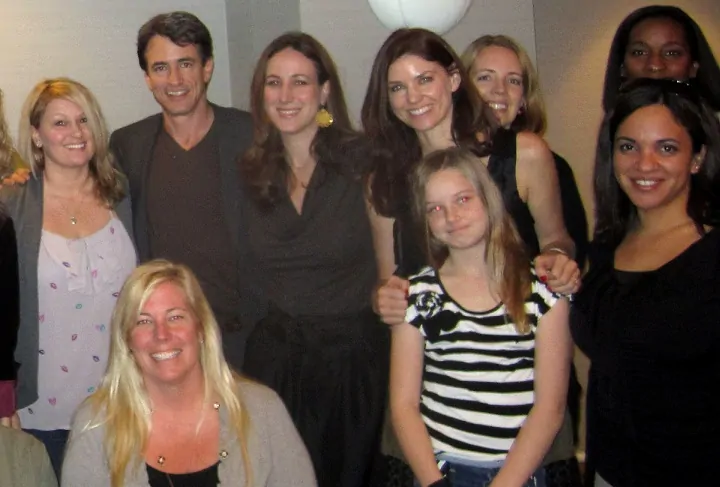 Giving an Issue a Human Face
And Ted — well, he's sort of the bad guy — the big Texas oil tycoon who cares more about making money than protecting wildlife. But I say sort of because Big Miracle doesn't take the easy Hollywood way out of portraying the heroes as all good and the villains as all bad. J.W. McGraw (Danson's character based on a composite of those involved in the real story) ends up providing equipment and capital that was needed to help free the whales from their icy predicament.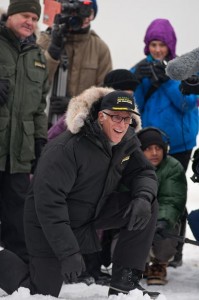 Ted Danson has long been an advocate for protecting our oceans. He works closely with Oceana, whose tagline is "Protecting the world's oceans" and crusades against offshore drilling and overfishing (If you watch and share the Big Miracle on Facebook, they'll donate $1 to Oceana). So how did he feel playing the big, bad oilman? Not so bad, apparently:
"I, over the years, doing battle against offshore oil drilling, have grown to know and like some of these guys a lot. They're nice people. We don't agree on certain things, but they're really nice people."
In addition, his local assistant on the film was the daughter of a local oil company head, so that put a human face on his role there as well.
Most of us think of Hollywood types — especially those who are involved in political and social issues — are out of touch and full of hot air, but Ted Danson was warm and friendly.
In fact, as soon as he sat down, he addressed Riley, the sweet young thing from Kids Pick Flicks, seen above in the black and white striped shirt, "I want to know who you are down at the end," he said (She got lots of positive attention all day long from all of the talent).
He also shared with us the exciting news that he became a grandfather for the first time a couple of weeks ago. He's looking forward to being involved in his granddaughter's life, and in fact that's the reason that he joined the cast of CSI, to be able to work in town.
Balancing drama and humor
The movie is based on a true story, and it's fraught with dramatic tension as the viewers wonder what is going to happen to the whales. We were surprised by (and completely enjoyed) the humorous moments in the script that aren't highlighted in the previews. The director Ken Kwapis said "it always feels to me like the best way to tell a dramatic story is to make sure that it has moments of levity. There have to be highs in order for there to be lows."
It's just another way that Big Miracle is a delightful contradiction, showing the full range of emotion — the whole of a person (not just good guy/bad guy), balancing a true story and actual news footage from 1988 with some composite characters to help tell a better story on screen, content that will appeal equally to parents and children.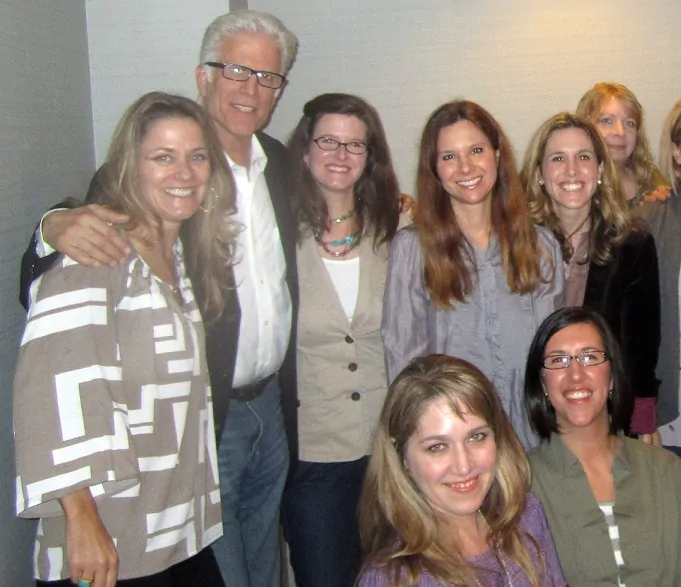 I had such a fun time with Ted Danson and Dermot Mulroney (though as you can see above, my friend Chelsea from BreezyMama and I got a little closer to Ted). Look for more posts from my press junket interviews right here at 5 Minutes for Mom this week. We had a great time with Kristen Bell, John Krasinksi and Drew Barrymore, as well as Bonnie Carroll, one of the real faces behind the story.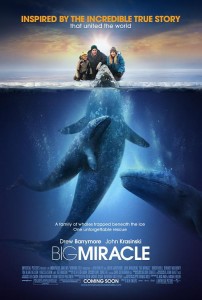 Truly a movie for the whole family
Big Miracle opens February 3.
I can't wait to share it with my family, because I know that they'll all love it, which is rare to be confident that my 13-year-old daughter and 7-year-old son, not to mention my husband, will all enjoy the same movie!
**Universal Studios took care of my travel expenses for this lovely trip to Santa Monica, California for the Big Miracle press junket, in exchange for coverage of the movie, however, I was not told what to say. My opinions are completely my own.