This post may contain affiliate links. Read my disclosure policy here.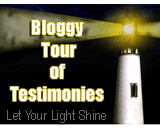 It wasn't dramatic or shocking. There were no sudden tears or overnight transformations. In fact, I am sitting here, staring at a blank screen, trying to figure how I should share my "testimony."
You see, I can't even tell you what my life was like before I became a Christian. I don't have any real memories of a time when I was without Christ. I 'grew' into my Christianity and into God's family as naturally as I did into my earthly family. I remember the time my twin sister and I knelt down beside my mother's bed and prayed to accept Christ into our hearts. But, other than that instance, my understanding of God didn't come from any specific experiences. It simply evolved.
As evangelical Christians, we attended a relaxed Brethren church. Our family was far from perfect, but I had a relatively happy childhood.
My twin sister and I are worriers and, right from the start, we turned to God to strengthen us. I remember my mom getting us to write out Bible verses about not worrying to carry with us to read when our fears threatened.
At fourteen I got sick with a virus that devastated my body and immune system. The rest of my teen years were spent as a sick kid, trying to get to school for a class or two, but mainly home schooling from my bed. At eighteen I got even sicker from trying to push my body to do more than I should and, as a result, was bedridden from nineteen to twenty-one.
While my twin sister and my friends went to university, I was being fitted for a wheelchair. I was so weak that even walking from the elevator to the doctor's office was straining. I was beyond discouraged and frustrated. I became obsessed with getting healthy. I prayed for healing constantly, but was never healed.
Eventually I surrendered to my fate and to God's will for my life, sick or not. After that began the most peaceful years I have ever experienced. My days became joyful, even as I lay in my bed for 22 hours of the day, often too weak or sick with headaches to watch TV or even listen to music. Instead I prayed and talked to God. He was my constant companion and became my best friend.
Now, after eighteen years of illness, I still struggle with a weak body but I am much healthier than I ever imagined I would be. God granted me many of my dreams that I shared with him. And although those years were lonely and difficult, I am so grateful for them. They laid a foundation that I can't imagine living without. I get lazy now and neglect my prayer life. I get greedy and want more energy and health. I get selfish and forget to surrender. But then God reminds me what he taught me and where I will find peace.
My life is not perfect and it never was. My family has its own hurts and wounds. But mercifully my twin sister and I came out of it all with a deep love of God. And just as I couldn't imagine life without Him when I was seven years old, I still cannot imagine living one day without my faith in Christ.
——————
Join the Bloggy Tour of Testimonies at Created for HIS Glory.