This post may contain affiliate links. Read my disclosure policy here.
A couple of years ago I learned how to quilt and soon made a special blanket for my two children. When I got pregnant with my third, I started on his blanket, but I was so busy that it still wasn't finished after he was born. And even now, with the baby boy almost 8 months old, the quilt is still waiting to be sewn closed and tied.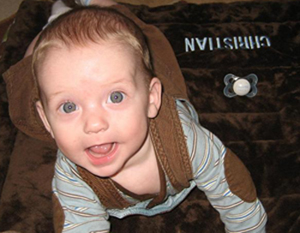 But then Jane at The Cushie Co. made a special Cushie BabyMat for him, and it helped ease the guilt I felt for not having his special blanket finished yet.
And actually he was a bit spoiled, because The Cushie is super soft, padded and luxurious. We both love it. And it allowed me some more time to finish his quilt, while knowing that he still had his very own special blanket.
The Cushie is much more than a blanket, however. Its padded nature makes it more useful and versatile than a baby blanket. It is perfect for hard surfaces. It is also made from ultra-plush Minky Chenille Plush and Minky Dot fabric. It is so soft and he loves to sometimes bury his head into his Cushie. I have even caught myself rubbing it against my face as well. It is just THAT soft. Because it is padded, The Cushie stays put, even under my wiggly, rolling 7 month old.
The Cushie is also the perfect size to fit into Pack n' Plays. We seem to use it often in his Pack n' Play and it is so comfy and cushiony compared to the typical Pack n' Play pad.
I also love how his Cushie is monogrammed. It gives his special blanket even more of a special touch. For the monogramming, you can chose from 3 font styles and 10 thread colors.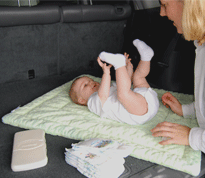 This product fills a need that no other baby product currently satisfies: it creates a cozy, clean & cool place for baby just about anywhere. While on his Cushie baby will be in the soft lap of luxury whether she's playing on hard wood floors or on any other dusty, unforgiving surface, getting her diaper changed on the Koala changing stations or sitting comfortably in the play pen. Perfect for Mom's playgroups and baby's play time. Most importantly, the Cushie is a unique and very impressive baby gift. It is always the talk of the baby shower.
My baby boy and I absolutely adore his Cushie BabyMat. I would definitely purchase one as a baby shower gift. There are so many designs and colors to choose from. It's one of those items in which the browsing and shopping process is so much fun.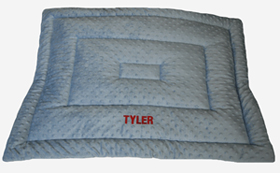 If you would like to win a Cushie BabyMat, please leave a comment below. We will choose one lucky winner to receive a Cushie of their choice. We also have a special discount code for our readers.
Upon checkout, enter in code fiveminutemom15 to receive 15% off. Also, if you sign up for their newsletter, you will enter into the pool to win a free chenille bib and matching burp cloth set.
We will draw our Cushie winner on November 15th.