This post may contain affiliate links. Read my disclosure policy here.
This post is written by Guest Contributor Katja. She is sharing with us today about Black Friday Shopping Strategies!
Everyone knows that the best way to save time and money on Holiday Gifts for kids is to take advantage of Black Friday and Cyber Monday deals. Before you plan your Holiday gift shopping this year, read these tips from Dawn Sandomeno and Elizabeth Mascali, entertaining experts, authors of Plan To Party, and founders of The Party Bluprints Blog. Dawn and Elizabeth have appeared as featured experts on TV, radio, and in national publications like the Today Show, Martha Stewart Radio, Good Housekeeping, Redbook and Kiplinger's Personal Finance Magazines.
These two busy moms know everything there is to know about hosting parties at home and giving gifts, they are also judges in this year's Holiday Giftee Awards by Gifts.com. Dawn and Elizabeth are known experts, but above all they are busy moms just like you and me, and they have to know the tricks how to make the household budget to stretch to make Holidays happen!
This Holiday season Dawn and Elizabeth teamed up with CheapSally to find the best sale prices for the gifts they recommend in their Holiday Gift Guide helping you will find the most popular gift items for your family for the lowest price possible.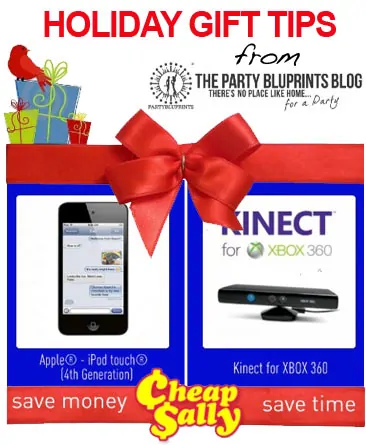 Holiday Shopping Tips for Moms
1. Create a Shopping List – and Stick to It!
Make a plan what to buy everyone, try to avoid last minute impulse shopping and busting your budget. Find out the hottest holiday gifts for everyone in the family for example from the Party Bluprint Blog's Best Holiday Gift Ideas for 2011. The inside scoop is that many of the gifts in their holiday gift guide will be available on sale on Black Friday.
2. Get the Black Friday Deals from One Site
Many deals sell out quickly so you need to locate and act on the information fast! Forget about doing hours of online surfing to find the best Black Friday deals, get all of the Black Friday and Cyber Monday deals from one place. Visit CheapSally.com's Black Friday and Cyber Monday pages, they aggregate all the best deals across the internet for you, offering a one-stop resource for saving money and time.
3. Teach Kids About Giving
It's also important to teach children about giving during Holiday season. Purchase presents that pull double duty and give a portion of the proceeds to charity. Dawn and Elizabeth recommend gifts with a purpose, like AnnieWear pet related
children's clothes donating proceeds to animal shelters or Heart of Haiti products sold at Macy's that give livelihood for artisans in Haiti.
4. Buy One Large Gift for the Family
Buy one large gift for the family and you will get a bigger bang for your buck. Even better when you choose something like the XBOX Kinect, that the entire family can enjoy together. You can find the cheapest price for XBOX Kinect and other specific products on Cheap Sally's Black Friday or Cyber Monday page.