This post may contain affiliate links. Read my disclosure policy here.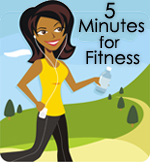 The new fall season of TV has started which means many of us are tempted to become a part of the sofa after the kids go to bed.
Instead of couch-slouching, why not get fit and enjoy your favorite shows at the same time?
Here are a few tips:
* Set up any exercise equipment you might have in front of the TV. Do you have an old exercise bike that now doubles as a clothes hanger? Drag it in front of the TV and start pedaling!
* Each commercial break is approximately 2 minutes. How many squats can you get done during the first break? How many pushups can you do during the second break? Can you hold a low plank for an entire commercial break? Keep a scorecard and track your progress.
* Get inspired by watching shows such as The Biggest Loser and Dancing with the Stars. It is very difficult to stay seated when you are watching other people exercising and dancing. Get up and move with them!
* Use your favorite shows as a reward system. For example, tell yourself that you can sit and watch TV after you have exercised for at least 10 minutes. You'll feel better and get an added boost of energy at the end of your day.
These are just a few ways that TV time can also be fitness time. Have a tip that works for you? Please share it in the comments!
This column is hosted by Lisa. She can be found doing squats and lunges over at Workout Mommy.