This post may contain affiliate links. Read my disclosure policy here.
Even though my kids and I still have 3 weeks left in the summer, it's all too obvious that back to school season is here.
Time for school supplies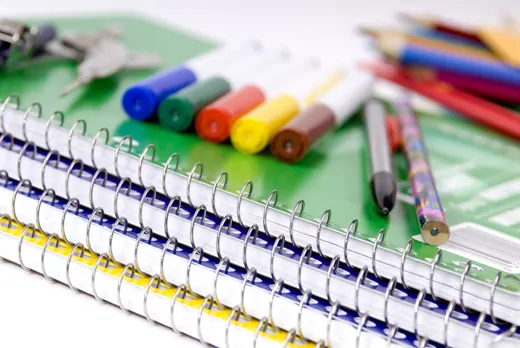 With 5 kids in school now, August ends up being a pretty big shopping month each year. Between dozens of #2 pencils, a rainbow of pocket folders and spiral notebooks, and a whole library of composition books, I could practically open my own office supply store by the end of August.
Despite the fact that I have so much to buy for my own kids, I've been able to find significant savings while shopping so that I've been able to donate a bunch of supplies to a community school supply drive, too.
Tips to save on back to school supplies
Start shopping early – I am always amazed (even though I've been back-to-school shopping for 10 years now) at how early the back to school sales start. Begin looking for sales in early July.

Don't buy everything at once – Unless you leave your back to school shopping til the last minute, there's no reason buy everything at once. Space your shopping out….and follow the next tip!

Only buy items that are on sale – It might be tempting to pick up an extra item at full price when you've got a shopping cart full of sale-priced items, but most likely that full-priced item will be on sale in the next week or two.

Check out the circulars – compare prices and visit the stores that are having the best deals this week.

Buy extras – I always throw some extra notebooks and pencils (and just about everything else) into my cart when I see an amazing price. I keep a stock of school supplies in my closet….the kids almost always run out of those commonly used supplies by mid-year, and it's nice not to have to run back out to the store.
Think outside the pencil box
I've also noticed that our school supply lists have changed quite a bit since my kids started school 10 years ago. Now, included on the lists are things like tissues, hand sanitizer, and plastic sandwich bags. For those items, I try to shop at a bulk store and then separate the bulk items into smaller bags for each of my kids. What are some of the most interesting things you've seen on your back to school shopping lists?
How do you save on your back to school shopping?
As an extra bonus, and to kick-start the BTS savings, Rayovac is offering a $1 off alkaline batteries coupon on Facebook.
Please Note: We are Rayovac Sponsored Bloggers. Our experiences and thoughts are our own. You can find coupons and more at Rayovac's Facebook Page.
Written by 5 Minutes for Mom managing editor Lolli. You can find me blogging at Better in Bulk and tweeting at @1momof5.