This post may contain affiliate links. Read my disclosure policy here.
When we were at BlogHer, Susan and I "divided and conquered" when it came to the party hopping. With three parties all happening at the same time – and one of them was an hour away from the hotel – we simply couldn't attend them all and be back at the hotel for The People's Party that we were sponsoring at 8pm.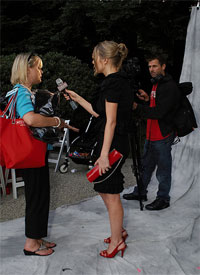 When we were deciding which one of us would attend which party, somehow Susan managed to score the Kirtsy/All Top party at Guy Kawasaki's incredible house. This party had it all – a great location, fabulous food and swag, a photo booth, and all the bloggy-celebrities a mom blogger would want to meet.
She even stole my fabulous new shoes – I mean are those shoes great or what?!?
I am such a giver!
Here is a shot of Susan interviewing White Trash Mom. (You can watch that interview here at 5 Minutes for Mom. To see all of the videos we have uploaded so far, click here. And of course, there are many more to come.)
And if you haven't seen all the fun shots from the party yet, jump over to Kirtsy's Photostream at Flickr.