This post may contain affiliate links. Read my disclosure policy here.

When I think of my mom, I think of hot tea, English breakfast to be exact. My mom is a tea drinker, and I spent many mornings, as a young girl, enjoying a hot cup of tea with her. I still enjoy tea, but seem to make it less often.
However, the other day I was reading about the health benefits of green tea and realized that I need to get myself back into the habit of drinking tea.
The antioxidant properties of green tea may help protect against atherosclerosis, mainly coronary artery disease. Researchers believe that polyphenols in green tea help kill cancerous cells and halt their progression with breast, bladder, colorectal, esophageal, lung, ovarian, pancreatic, prostate, skin and stomach. Green tea also lowers bad cholesterol while raising HDL cholesterol.
A study at the University of Pittsburgh states that, that although more studies are needed, the antioxidants in the green tea help protect the bladder against inflammation or injury. Green Tea may help reduce the inflammation in the bowels for those with irritable bowel disease. Losing weight is a little bit easier with green tea as it increases your metabolism which in return helps burn fat.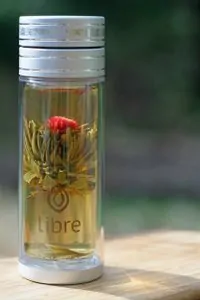 Libre has a great way for you to enjoy tea, and it is PERFECT for Mother's Day. Libre's loose leaf tea glasses are specifically designed for tea 'on-the-go' and are made with a built-in stainless-steel filter that keeps tea leaves in the glass and out of your mouth.
The Libre Glass 'n Poly tea glass has a durable polycarbonate exterior and a health-conscious glass interior for practicality and clean taste. It is also beautiful!
I was thrilled to take my Libre Glass 'n Poly out of the box and try the organic Ming Mei green tea that was also sent my way. It was delightfully easy. The organic Ming Mei tea comes in individual packs. I simply opened a package, emptied it into the filter, filled my glass with hot water, twisted the filter back on, turned the glass upside down for 90 seconds to brew and voila, my delicious green tea was ready to drink.
With the Glass 'n Poly, there is also an option of emptying the loose leaf tea directly into the glass, adding hot water, and letting it steep.
This Mother's Day, one lucky reader will enjoy a relaxing tea moment…anytime, anywhere! We have one Libre Glass 'n Poly plus package of organic Ming Mei green tea to give away. Simply leave a comment below to enter. If you "Like" Libre on Facebook, you can earn an additional entry.
This giveaway is open to US and Canadian shipping addresses and is void where prohibited. Please see our site's Terms and Conditions of Use for more information.
This giveaway will remain open until Saturday, May 7th. We will announce our winner along with our other Mother's Day Giveaway winners on Sunday, May 8th.
Please be sure to check our main Mother's Day Giveaway post for our list of giveaways. New ones are added daily.

Thank you to Libre for providing two Glass 'n Poly with organic Ming Mei green tea pouch for review and giveaway.