This post may contain affiliate links. Read my disclosure policy here.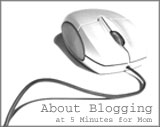 About Blogging
by Melanie Nelson
Melanie answers your basic blogging questions every week day at Blogging Basics 101.
I'm sure you've heard me screaming it from the mountain tops because I'm so excited, but it's possible that you have had your iPod on and missed it. If that's the case, here's my newsflash: I'm speaking at the BlogHer 2008 Conference in San Francisco on July 18! I am beyond excited because I love sharing information with people and I love the panel I'm on.
If you are attending BlogHer '08 this year, I encourage you to come to my session, How We Communicate: FAQs for Beginning Bloggers. My fellow panelists are Michelle Mitchell from Scribbit, Nelly Yusupova, and Shazia Mistry. We will be answering the top five most frequently asked questions of beginning bloggers, then we'll split up into groups (Blogger, TypePad, WordPress) and do some hands-on work, then we'll come together for a final question and answer period. I'm telling you right now, these are some of the most knowledgeable ladies I've met and there will be some serious learning going on. Even if you don't consider yourself a beginning blogger, I think you'll find some interesting things and have the opportunity to take your blog to the next level.
For those of you not attending, I thought it might be interesting to discuss the top five most frequently asked questions on Blogging Basics 101. These aren't necessarily the same questions we'll be using in our panel (all the panelists are currently making their own lists and we'll pick and choose the final five next week).
I hope these tutorials help you as you develop your blog. If you are attending the conference in San Francisco, I can't wait to meet you. Don't be afraid to come introduce yourself and hand me your card. If you are not attending the conference, never fear. I will be writing up what I learn and sharing it with you all when I come back. In the mean time, if you have any questions at all, please send them to me at bloggingbasics101 at gmail dot com.