This post may contain affiliate links. Read my disclosure policy here.
Our husbands have it easy. Moms are so easy to please… just give us a gift certificate to the local spa and you're good to go.
But finding a good gift for a man can be tougher. With business casual dress taking over the office, the old fall back gift of a tie has lost its charm.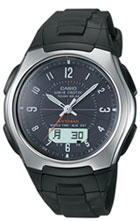 Well this year, I got lucky and I'm sharing that luck with you.
Casio solved my problem by sending me one of their Waveceptor timepieces, and they're going to send one of you a watch too! If you'd like Casio to solve your Father's Day gift dilemma, leave a comment and let us know. We'll draw one lucky winner.
But you don't need to wait to win, you can pick up a Casio Waveceptor timepiece at Kohls. This particular watch retails at $99.99, but there are a variety of great watches ranging from $50 to $200.
This watch turns out to be a perfect gift for my husband since he doesn't have a daily wear watch. He only owns a rather fancy watch that he doesn't feel comfortable wearing everyday.
This cool and techy watch is a great match for him. He can enjoy the high-tech time calibration that several times a day receives the official US government time via a time calibration signal from the atomic transmitter in Ft. Collins, CO. I know he'll love the sound of that!
He'll also like that he never needs to adjust the calendar because it has a perpetual calendar that adjusts for month to month inconsistencies and Leap Years. And he doesn't have to worry about taking it off when we take the kids swimming since it has 100M water resistance.
So, this year I've got Father's Day covered. Thanks Casio!
Remember, if you think your hubby would like one of these Waveceptors, let us know. We'll draw the random winner on Wednesday, June 4th, so the winner can (hopefully) receive it in time for Father's Day. And if we don't draw your name, just pop over to Kohls and pick one up.
This giveaway is open to US shipping addresses only.