This post may contain affiliate links. Read my disclosure policy here.
Trekking through the Himalayas, averting natural disasters, dodging dangerous animals and out-witting evil inhabitants — all with the power of a DVD remote control — my son Jackson sits engrossed in our living room, spellbound in an exciting story that he controls.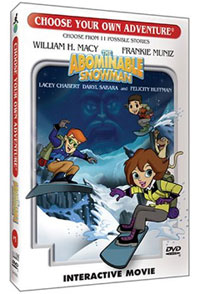 Yes, the innovative Choose Your Own Adventure book series you may remember from your childhood has entered the new millennium.
The Choose Your Own Adventure: The Abominable Snowman is the first ever animated interactive DVD and it gives kids the chance to control the story with 11 different storylines.
When Goldhil Entertainment sent us a copy of the DVD to review, I was immediately impressed with the DVD — as was Jackson. (His exact words were, "Woohoo – this is great!")
And what kid wouldn't be thrilled? It is totally cool! Not only is it packed with all the right stuff — great animation, fun storylines and hip characters — this DVD puts the kid in charge (right where they want to be!)
With each option, the story twists and turns, changing the plot and keeping Jackson engaged and thinking about what to do next.
And as a parent, I like that Jackson is challenged with decisions, learning about consequences and making good choices.
The animation is top notch and the cast includes voices of Felicity Huffman, William H. Macy, Frankie Muniz and Lacey Chabert.
Most importantly, I was happy to read that the Dove Foundation has approved the movie for family viewing.
(I can't wait till Jackson is old enough to read chapter books and to try out the book series as well.)
So, two thumbs up from Jackson and Janice for the interactive Choose Your Own Adventure: The Abominable Snowman DVD.
To pick up a copy for your kids, click here.