This post may contain affiliate links. Read my disclosure policy here.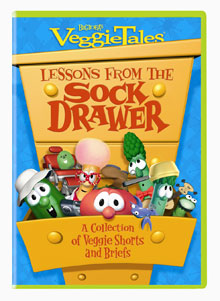 From the first moment Bob and Larry hopped their way into America's living rooms, getting kids to have a healthy dose of "veggies" has been just plain easy. These veggies are fun!
And with their clever plots and witty banter, adults can actually enjoy the show right along with their kids. It is win win for everyone involved.
So whenever a new VeggieTales® movie is released, my son's (and my) ears perk up. You simply can't go wrong with VeggieTales®.
"Lessons from the Sock Drawer" is the newest release in the VeggieTales® series. Bob and Larry kick off these silly shorts by digging into a dresser full of socks, which is also known as Larry's "Veggie Vault". The kids get to hang out with a story-telling donkey and a sock puppet while learning some valuable lessons.
When the screener arrived for me to review, I popped it in the player to watch with my son Jackson, our resident VeggieTales® expert. Of course he loved it (did I have any doubts?) When I asked him if he would recommend it to other kids, he exclaimed, "Oh YEAH! I would recommend it for ALL ages". (So there you have it – straight from the six year old expert.)
When Edmund's pet hamster disappears after he accidentally leaves the top off its cage, he writes to Bob & Larry asking for advice. While Bob feels like there's no lesson to teach Edmund – after all, it was an accident – Larry feels quite the opposite! He has just the right stories with just the right lessons tucked away in The Veggie Vault!

Filled with hilarious video segments and music, "Lessons from the Sock Drawer" has 15 irresistible shorts together on one DVD for the very first time. Includes favorite Veggie moments, like "Dr. Jiggle and Mr. Sly," "Larry's Lagoon," "Omelet," "Going Up," "The Englishman Who Went Up a Hill," and many more. Each story is woven together with new video clips, and as an extra special bonus, you'll find segments from the VeggieTales TV show that have never been seen on DVD before now.
And to make this VeggieTales® DVD release party even more fun – we have a fabulous contest for you to enter!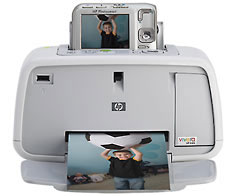 Not only are we giving away the new "Lessons from the Sock Drawer" DVD, but one of our readers will win our GRAND PRIZE — an HP Photosmart A446 Digital Camera and Printer Dock, extra ink and a package of photo paper, as well as a copy of the VeggieTales® newest DVD release, "Lessons from the Sock Drawer".
In addition to our grand prize winner, we will also have four runners-up who will win a copy of the "Lessons from the Sock Drawer" DVD.
To enter leave a comment at this post and we will announce the winners on May 30th. (This contest is open to US AND Canadian shipping addresses.)
And, for some extra fun, here are some free VeggieTales® coloring sheets for your kids.
http://bigidea.com/other/misc/socks_coloring/coloring_blues.pdf
http://bigidea.com/other/misc/socks_coloring/coloring_forgive.pdf
http://bigidea.com/other/misc/socks_coloring/coloring_sly.pdf
http://bigidea.com/other/misc/socks_coloring/coloring_socks.pdf
VEGGIETALES®, character names, likenesses and other indicia are trademarks of and copyrighted by Big Idea, Inc.