This post may contain affiliate links. Read my disclosure policy here.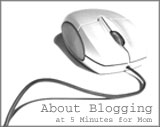 About Blogging
by Melanie Nelson
Melanie answers your basic blogging questions every week day at Blogging Basics 101.
May 1 was RSS Awareness Day as declared by Daily Blog Tips. The intent of the declaration was to bring attention to something all bloggers need to be aware of: their RSS feeds and how to make sure readers can subscribe to them.
RSS feeds, or feeds as many people call them, are useful when you have
a blog or any other site that is updated on a regular basis because the audience doesn't have to check back to see if content has changed or updated; the content is sent to them.
Confused? Watch this video. It's the best explanation of RSS feeds (and how to use them) I've found.
Feeds are read in an aggregator (most people call an aggregator a feed reader). Some of the more popular feed readers are Bloglines, Google Reader, and MyYahoo. To use a feed reader to follow your blogs, you'll need to create an account, then populate the reader with the sites you want to follow.
Populating your list is easy if the sites you're following have obvious RSS buttons for subscriptions. The universal symbol for an RSS feed is this orange button:
The orange feed button is usually at the top of a sidebar or within the address bar of your browser. When you click on that button, you will be able to add that blog's feed to your feed reader. Occasionally, when you click on the feed button, you will see a page with a bunch of HTML code on it. Don't panic. It's annoying and frustrating, but easily fixed. Just copy the URL from your address bar, go to your feed reader, and paste the URL into the appropriate box in your feed reader.
When you add a feed to your aggregator, you may be presented with a choice of feeds: RSS, Atom, and/or XML. RSS and Atom are basically the same types of feeds. It shouldn't matter which feed you choose to use. XML is the technology the feed reader is using and should really be named RSS or Atom instead of XML. I found an article at Mezzoblue.com that addresses this issue more completely.
When I subscribe to a feed via my reader, I usually don't pay attention to which feed I'm subscribing to. If I have a choice of feed types, I look to see which was was updated earliest and choose that one. I choose the earliest because I'll get the updates faster.
In short, feeds and feed readers are an important part of blogging and encouraging steady readership. If you don't have an orange feed button on your site, add it. If you do have the orange feed button, make sure it's easily spotted on your site.
Finally, if you aren't using an aggregator to help you keep track of the blogs you read, try it out. The time you save by letting updates come to you (instead of tracking them down) will allow you to subscribe to even more blogs!
by Melanie Nelson
Blogging Basics 101