This post may contain affiliate links. Read my disclosure policy here.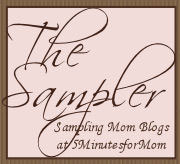 5 Minutes for Mom brings you exclusive samplings from the best mom blogs in our weekly column, The Sampler, hosted by 5 Minutes for Mom contributing editor Shera, from A Frog In My Soup.
Paper Bridges is the spiritual journal of writer and home schooling mom Monica Brand. Through her blog, Monica hopes to encourage other Christians in their walk with the Lord, to keep on pressing on in the hard times, and to be faithful in the small things. Monica and her husband have four children – ages 9, 8, 5 and 3.
Moments
Being a mother is a test of spiritual mettle. At least for me.
Susan, my eldest, fell out of a tree. Her wrist didn't look broken, but off to the ER we went for an x-ray. Sure enough, the next day we found ourselves at the orthopedist for a permanent cast. My tribe of four did great waiting for the doctor in a cramped examination room. A life-like model skeleton of a hand and posters of bones on the wall entertained us. An educational field trip.
But trouble found us when we left.
In the waiting room, Peter turned the receptionist's nameplate upside down in it's holder. He laughed like a goof, that silly giggle of an 8-year-old boy when he thinks he's being clever. I told him to fix it, and he did. Then his brother had to do it too, because it's monkey see-monkey do. If it's okay for Peter, then it's okay for the five-year-old. Mothers of more than one boy, I know you would agree with me.
Before I could tell Edmund to fix the metal plate, an office worker came into the waiting room. A woman, middle aged, I guessed, with short, curly brown hair. She immediately spotted the tampered-with nameplate and picked it up.
Normally I'm focused on the kids at these moments. You know how it is, trying to get out the door with everything you brought with you, looking for the wayward magazine to pick off the floor. I want to leave a good impression, especially because we are home-schoolers.
But this time, my focus was on this woman. Her back to me, she didn't know I was still there. Listening.
"Stupid kid." The woman grumbled under her breath just loud enough for me to hear. She fixed the nameplate.
I was furious, dumbfounded. How could this woman be so callous with no sense of what boys do? He's smart, curious about life. This is what they do, I want to yell at her. But I held my tongue. The combination of temper and tongue had gotten me in trouble before. Not the best Christian witness.
Curly hair turned. Did she know I heard her? I take a step toward her. I had a second to decide how I would respond.
"He's not stupid. He's just a boy." My voice is low, I didn't want Edmund to hear. My boy stood next to me, oblivious to what is going on.
The woman only shrugged and went back through the inner office door.
I want to follow her, tell her off. How dare she? But I didn't. Out in the hallway, I stop and call the kids to me.
Susan in her new pink cast, Peter and Edmund eager to get home to play. Lucy strapped in her stroller. I have their attention. This is my moment.
"Don't forget what it's like to be a child, guys. Don't forget the silliness and how fun it is to play."
* Oh, God, don't let me be like that woman. Help me to see life through the eyes of a child, how they find fun in the mundane, and thank you for holding my tongue when I wanted to be a mother lion for just a moment. *
~ Written by Monica Brand of Paper Bridges. She also blogs for Relief Journal, a Christian literary magazine, and New Jersey Moms blog.
If you would like to be considered for The Sampler please review The Sampler Guidelines.
This column is Hosted by Shera. She can be found at A Frog In My Soup