This post may contain affiliate links. Read my disclosure policy here.
We're celebrating Mother's Day with fantastic giveaways, now through May 9. Click HERE for all the details.
Do you want some great therapy advice under $20? Read The Mother Factor by Dr. Stephan Poulter. In this book he maintains that our mother's emotional legacy impacts our life. The way we see ourselves and function in relation to others is in large part a result of our feelings–usually unresolved–towards our mothers.
This book will help you come to terms with the way things are, which may differ from the way you want them to be, with clear explanations and techniques to help you understand her and yourself–without assigning blame.
The following excerpt is from The Mother Factor: How Your Mother's Emotional Legacy Impacts Your Life by Stephan B. Poulter (Amherst, NY: Prometheus Books, 2008). Copyright ©2008 by Stephan B. Poulter. All rights reserved. Used by permission of the publisher (www.prometheusbooks.com).
A very common obstacle to appreciating the profound effect of the mother factor is to rationalize away its significance. For example:
• My mother has been dead for ten years: how could she still have an impact on my relationships or the way I act now?
• I was never particularly close to my mother. I don't think she has much of an impact on my personal life today.
• My mother was a 1950s–1960s stay-at-home mom and she never had a professional paying job. How can she influence my professional choices and feelings?
• I never respected my mother's handling of emotional issues or her psychological maturity. I am completely different.
• My mother allowed my father to make all the decisions in the family, and I learned to follow my dad's lead, not my mother's.
Women have been defined for thousands of years by how they functioned at home. Now women are not only being defined in the home but by their profession and career. Still, the home has been women's sanctuary and place of nurturing and healing for generations. It is impossible to minimize the impact that your "mother's home" had on your entire development and personality. Your home was the place where you learned how "life" worked. School, friendships, and work were and are the places that the home lessons were applied and used, and still are to this day. It is counterintuitive and a mistake to think that your home life with your mother didn't erect a cornerstone in your life.
Whether their mother was a homemaker or a college professor, many people dismiss the magnitude of their mother's influence on their life because the relationship was strained, emotionally painful, distant, or highly conflicted.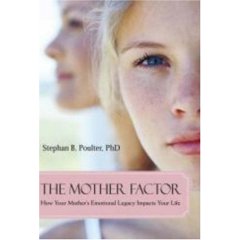 On the surface it may appear that you and your mother have nothing in common. Usually it is quite the opposite, and the truth is you have many things in common with your mother. The problem is that the extensive and murky overlap of thoughts and feelings between you and your mother may be unclear, and you need to sort these out. Remember, you are creating your own emotional legacy for the people in your life.
There is often an edge of aggressiveness and cold-heartedness to adults who have never resolved or come to terms with who and what their mother was. In addition, they may never reconcile themselves with what happened positively and negatively in the relationship. The driving force in these sons' and daughters' lives is the complete rejection of who and what their mother was as a parent. The challenge for these adult children is overcoming the painful disappointment and disillusionment of their memories of their mother. The ability to trust others and form meaningful long-term relationships are difficult tasks for adults who have had this type of mother-child relationship.
If you'd like to win one of three copies of The Mother Factor, leave a comment here. We'll post the winners next week.
The winner of all three of the art books that we featured last week (Hello Rousseau! and Hello Matisse! and Gallery Ghost) is #85, Audrey B.