This post may contain affiliate links. Read my disclosure policy here.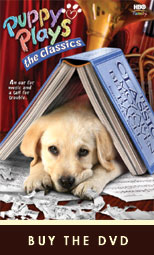 I'll admit it. My almost-four-year-old son watches a lot of TV. To be honest, I don't worry about it too much. It usually reinforces what I try to teach him at home–letters, sounds, numbers and more. Although he likes to have it on, he doesn't stare at it like a zombie. He is busy playing, but often likes to have his little TV friends around for company
Puppy Plays the Classics DVD is perfect for this kind of viewing. It's basically a video of very cute puppies with a soundtrack of classical music. It originally aired on HBO Family. You can see and hear a clip on the Puppy Plays site.
I think that these would be great entertainment for children even younger, and the good news is that since it's classical music, there's nothing to annoy Mom if it's the kind of show that they want to watch over and over again.
Would you like to win one of five copies (which can ship to the U.S. or Canada)? Leave a comment and we'll draw the winners on May 6.