This post may contain affiliate links. Read my disclosure policy here.
A couple months ago, Jackson brought a pledge sheet home from school. The kindergarteners were raising money with a Skill-A-Thon and one of the six skills the children would be tested on was tying their shoelaces.
Of course, I knew that Jackson would have to learn how to tie his shoes eventually. But I had no idea how to teach him. So I just kept buying him velcro shoes and putting off the inevitable.
But now there was no more room for procrastinating. Jackson had to learn and he had to learn fast. We had less than one week.
So, I pulled out a pair of shoes and sat Jackson down. But I quickly became one of the countless, frustrated parents attempting to teach a child how to tie their shoes. I mean, "How do I tie my shoes? And how on earth do I teach him?"
Finally, I gave up teaching him the standard method that I use and tried the bunny ear method. But the knots were messy and came undone. I simply concluded that either this was an inferior method or that I was doing it wrong.
I was lost. So, with Jackson in his pajamas and bedtime quickly approaching, Jackson and I threw on our coats and knocked on our neighbor's door. She is a grade one teacher and I figured I needed some professional help.
But she was out, so I was left on my own. I felt like a parenting failure.
It was getting late, so we gave up for the night.
The next day, before I picked up Jackson from school, I took to the internet to educate myself. After looking at a couple sites, I clicked on to Ian's Shoelace Site.

There it was. All laid out. Simply and clearly illustrated and explained. Google and Ian "Professor Shoelace" Fieggen saved me!

I was stunned to discover that when I had tried to teach my son the bunny ear method (what is actually called the two loop method,) I was doing something called a Granny Knot!
Who Knew?!? But I was making the incredibly common error which leaves shoelace knots perpetually slipping and coming undone.
Do your shoelaces always come undone? Do your shoelace bows sit vertically instead of across the shoe? If so, you're probably tying a "Granny Knot", and one simple change to your technique will result in a balanced knot that sits straight and stays secure. – Ian Fieggen
I quickly phoned my school teacher neighbor, whose door we had knocked on in desperation the night before, and told her that not only did I not need to bring my son over BUT I told her about the Granny Knots!
I felt empowered, enlightened and ready to take on this parenting rite of passage.
With Ian's Shoelace Site open and guiding us, Jackson and I mastered tying shoelaces. We learned the simple cure for a Granny Knot and how to effectively use the Bunny Ear (Two Loop) method.
But I didn't want to stop there! I wanted to tell the blogosphere – to let you all know that there is a cure for slipping, messy "Granny Knots" and to tell you about Ian's Shoelace Site and Ian "Professor Shoelace" Fieggen who changed my shoe tying life!
Now, if you already know how to tie a secure knot and there are no Granny Knots in your life, the Professor still has a wealth of shoe-tying knowledge that you couldn't even have imagined existed.
Ian Fieggen is the creator of his own knot! The Ian Knot is the world's fastest knot and with the site's step by step method, you can soon be tying your shoelaces faster than ever before.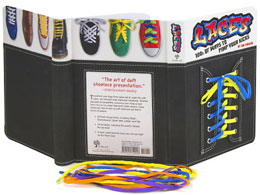 Ian Fieggen has also written a book called, Laces – 100's of Ways to Pimp Your Kicks. Indebted to his site and intrigued by his book, I wrote to Ian and he sent me a copy of his book to review and a copy to giveaway to one of you!
Laces goes further than you knew shoelaces could go! With an incredible variety of fascinating and fabulous ways to lace and tie your shoes, this book could keep you and your kids busy for years! You can learn lacing styles such as the Riding Boot used for equestrian and motorcycle boots, the Army used on combat boots, the Hidden, the Shoe Shop, the Corset, the Checkerboard and so many more. And of course, Laces includes numerous knotting methods, including the Standard Knot, the Two-Loop knot, the Ian Knot and several more knots I had never heard of!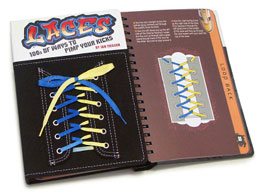 Laces walks the reader through the innovative and creative methods with step by step instructions and easy-to-follow diagrams. With its unique triple fold design, the book's cover can be folded over the left page so that you can use the color-coded laces to follow the diagram and instructions on the right page.
All ages will enjoy Laces – whether it is a kindergartner mastering their first knot, a teenager "pimping their kicks" or a parent enlightening themselves about the world of lacing and tying knots.
I never knew there was so much to learn – and Ian "Professor Shoelace" Fieggen is a great teacher!
If you want to win a copy of Ian's book, Laces, just leave a comment here to enter. We will announce the winner April 19th. This contest is open to US and Canadian shipping addresses.