This post may contain affiliate links. Read my disclosure policy here.
I am bad. I know I am.
I rarely ever check my credit card statements and banking statements — let alone "balance my checkbook!"
I know I should! My mother has warned me for years that I could be losing money every month due to human error or credit card fraud. And I know she is right, but… I just don't have the time!
I am lucky if I get the darn things paid, let alone have time to analysize all the charges, etc.

But recently I talked with PinPoint Fraud Detection President, Robert Boxberger, and discovered just how common my situation is, (even his own wife wasn't checking their statements!) and how much money I could be losing every single month just by not checking my credit card statements.
I knew very little about credit card fraud protection or prevention! I just hoped my credit card company had it covered.
But guess what? The credit card companies are not catching all the credit card fraud charges that are happening on victims' accounts. In fact, according to PinPoint, banks only catch 35% of fradulent charges.
Aacch! I was not happy to learn that I really could be losing money just by not paying attention to my statements!
But we moms are crazy busy. I just don't have enough time to get everything done. Even though I know I need to, I still never manage to check my statements regularly to make sure I am not have fraudelent credit card charges.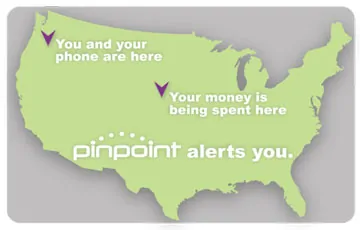 So I was impressed when I learned about how PinPoint brilliantly protects consumers from credit card fraud.
PinPoint monitors for fraud on our accounts everyday so we don't have to!

It works by comparing our cell phone location with our transaction locations and alerting us if they don't match up.

AND they will monitor our most important account for free! Just go to www.pinpoint-fraud.com to sign up and start protecting your money this holiday season.
For a quick overview, watch this video to find out how PinPoint Fraud Detection works:
As I mentioned, I had the chance to talk with PinPoint President, Robert Boxberger, and record our conversation for a podcast.
It was fascinating learning more about credit card fraud and credit card fraud protection. I especially loved learning that his wife was also not regularly checking their statements! And, in fact, when they did sit down and analyze their charges, they found approximately $200 in charges that they hadn't authorized!
To listen to my podcast with Robert Boxberger, PinPoint President, click on the podcast icon below.
[display_podcast]
Holiday season is unfortunately also fraud season! So now is the best time to get started – for free! – with PinPoint Fraud Detection and start ensuring that the only charges you are paying on your credit cards are indeed yours!
Please Note: PinPoint are sponsors of 5 Minutes for Mom this month. And, by the way, we really appreciate your support of our sponsors!
Written by Janice Croze, co-founder of 5 Minutes for Mom.
Talk with me: @5minutesformom and Facebook.com/5minutesformom.