This post may contain affiliate links. Read my disclosure policy here.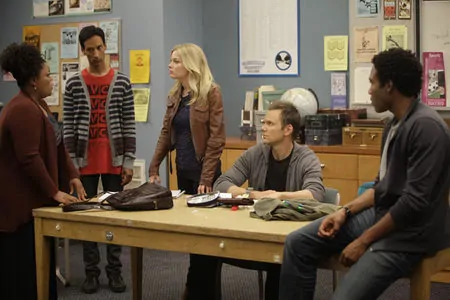 I had the true pleasure of joining several other bloggers on an interview with Joel McHale, who plays Jeff on NBC's hilarious show "Community", now in its second season.
Joel, whom you may also know from The Soup, is a naturally funny man, who still doesn't understand why so many people find him to be humorous. He sometimes feels like he is faking it, and that someday, the world will catch on. It just goes to show that we are often unaware of our own brilliance.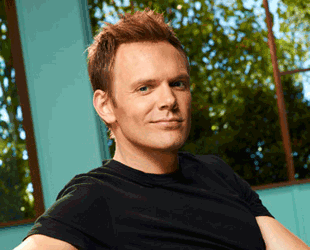 Joel is also a devoted dad who is not afraid to change a diaper, even if it means chasing  down a naked two-year-old around the house to do it.
We laughed as he shared with us that changing his youngest son's diaper is like "struggling with a small animal that's covered in its own waste…then the animal realizes you're finding it annoying…then it starts laughing and moving about."
Leave it to kids to provide us with much needed comedic relief, or in Joel's case comedic material for stand-up routines.
As a parent, I found myself relating to Joel as he shared with us a bit about his children. He spent some time discussing their favorite television shows. His boys are currently into watching train documentaries and Yo Gabba Gabba. Joel mentioned how he would love to have a guest spot on Yo Gabba Gabba as well as a favorite of mine, Phineas and Ferb.
Like many working parents, Joel has found that parenting can be a bit challenging, especially with everything else on his plate, which includes The Soup, Community, stand-up shows, and movie roles.
He credits his wife for helping him to make time for the family and described her as a super-mom who he is blessed to have as a wife and mother of his two boys. I must say, she sounds like quite a lucky woman as well!
In case you have not yet had the opportunity to tune into Community, you can catch it on Tuesdays at 8/7c on NBC. The show is about a lawyer who lied about having a bachelors degree and is forced to go to community college to make up four years of college.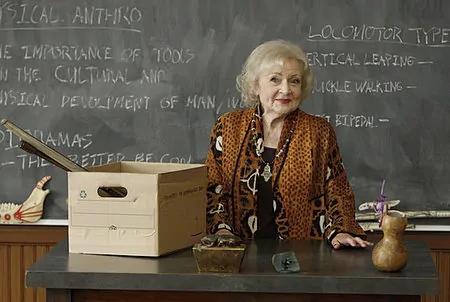 Season two opened up with the students enrolled in anthropology. Their first teacher was none other than the talented Betty White, who played a man-hating woman who had lived in the wild while studying other cultures. She was tough and had no issue shooting poison tips at anyone who challenged her – the paralysis was only temporary.
The next episode will be a game of clue where Annie (Alison Brie) tries to find out who stole her favorite pen. The group creates a "self imposed lockdown" and Jeff (Joel McHale) leads the search. Meanwhile, Abed (Danny Pudi) and Troy (Donald Glover) are desperate to get out of lockdown and get to a puppy parade. Naturally.
A special thanks to Joel McHale for taking time out to talk to mom bloggers across the blogosphere.