This post may contain affiliate links. Read my disclosure policy here.
Jack the Fish has died.
And this time I am sure.
Since the first night, almost a year ago, when I brought Jackson's lethargic beta fish home from the store and hid him away for Christmas morning, I have been expecting him to die. And it was not just because flushing fish to their watery grave is the inevitable fate of anyone foolish enough to buy a fish that I thought I this fish was doomed, but because this specific fish looked ready to die from the moment I first spotted him.
But his impressive green and blue scales – he was the only fish in the store adorned in Jackson's favorite colors – pushed me past my reservations. "Look – he is just fine," the woman at the pet store assured me as she chased the now dodging beta fish with her net.
By the time I got home I regretted my choice. "Why didn't I just buy the spunky little red one!?!" I scolded myself. After my mom and Susan took a look at Jack, they agreed he didn't look like he would make it through the night. But it was Christmas Eve and the store had closed. This was the fish. He had to make it.
I think I checked him ten times that night and to my relief the fish was still alive Christmas morning.
Jackson was ecstatic when I brought out his first "pet." He squealed, danced, screamed – the whole bit. (He even said that when Julia was three, he would buy her her own fish for Christmas.) When I asked what he was going to name his new fish, Jackson declared, "His name is Jack the Fish."
But I was worried. How long could Jack the Fish last? Was he just lazy – or were his best days behind him?
To my shock, months passed and Jack continued to live.
But, in the spring, Jack appeared to be very ill. He lay on his side at the bottom of his tank, his gills barely moving. His untouched food collected in the tank. I tapped the plastic next to him and he barely responded. With no fight left in this little fighting fish, I tried to prepare Jackson. "Jack is very sick. I think he is dying."
Jackson cried at night for a week as we waited.
One day I was sure it was finally over. I told Jackson, Jack is dead. He sobbed and insisted that we had to take him to the sea – I was not allowed to flush Jack down the toilet. I sighed, agreed and went and fetched the net. As I lowered the net to scoop him up, Jack darted away. "He is alive!"
And indeed he was. Jack recovered and lived for months.
But he was aging. No longer bright green and blue, Jack turned a dark and dull navy. He slowed down – if that was even possible – and I began to warn Jackson that Jack was getting very old.
Two nights ago I went to feed Jack and noticed his uneaten food floating on the top of the water. I looked down and saw his lifeless body lying on the bottom of the tank. I tapped the tank, hoping he would jump back to life again. But he didn't move.
Jackson was already asleep, so I left Jack the Fish until the morning. When Jackson woke up, I checked Jack again. He was really dead this time. His body was even starting to decompose.
Jackson wailed when I told him Jack had died, but I assured him the Jack had lived a very long, happy life for a fish. After several moments of intense grieving, Jackson recovered. He even agreed to let me flush the fish. I didn't have to take him to the ocean. (I was incredibly relieved about that change of heart. I am so busy right now and the weather is too cold for a trip to the beach! But if I told my mourning five year old I wouldn't give his fish the burial he wanted, I figured I would hear about it in therapy years from now.)
So that night, after Jackson was asleep, I went and got Jack from his room. I carried him into the bathroom and checked once again that he was indeed dead. By now, there was no mistaking it. I flushed Jack the Fish and scrubbed his plastic tank.
I never expected Jack the Fish to live a whole year. But he surprised us. I won't miss cleaning his tank, but I will miss him.
Good-bye Jack the Fish. And thank you for living for as long as you did. You made one little boy very happy.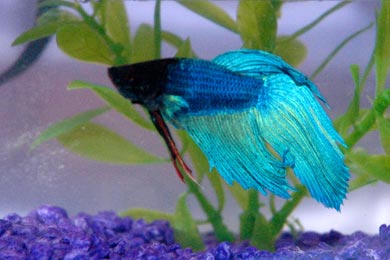 Jack the Fish in his glory days.