This post may contain affiliate links. Read my disclosure policy here.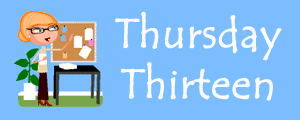 Banner by Chaotic Home
13 Things I Appreciate about my Husband Phil
He loves God.
He loves me and our son.
He works hard.
He helps out around the house and does a lot of the grocery shopping. (He doesn't wash the counters after he has done the dishes – but hey at least he did the dishes!)
He doesn't complain when I have been too busy to get dinner made.
He cooks – and when we have guests over, he usually does the cooking. (His specialty is salmon – and he catches it too!)
He volunteers at Bible camp. (The same one that my parents volunteered at and the place where Phil and I met.)
He makes me laugh.
He doesn't hold a grudge after we have had a disagreement.
He lets me sleep in on Saturday and have a nap on Sunday afternoon. (Phil and I are both very fond of naps!)
He is so strong – very useful very carrying heavy objects like our 50 pound four year old and my overstuffed luggage. I call him my Sherpa.
He is an electrician and can fix stuff around the house. This man has some tools!
He lets me work away on my computer in the evening and rarely complains about it.
Get the Thursday Thirteen code here!
The purpose of the meme is to get to know everyone who participates a little bit better every Thursday. Visiting fellow Thirteeners is encouraged! If you participate, leave the link to your Thirteen in others comments. It's easy, and fun! Be sure to update your Thirteen with links that are left for you, as well! I will link to everyone who participates and leaves a link to their 13 things. Trackbacks, pings, comment links accepted!
View More Thursday Thirteen Participants