This post may contain affiliate links. Read my disclosure policy here.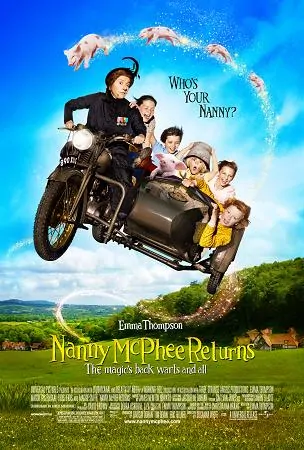 In Nanny McPhee Returns, Emma Thompson is back trying to help a whole new family learn to get along, care for one another, and to learn that with a little faith, they can solve their problems.
Synopsis: Nanny McPhee appears at the door of a harried young mother, Mrs. Isabel Green (Maggie Gyllenhaal), who is trying to run the family farm while her husband is away at war. But once she's arrived, Nanny McPhee discovers that Mrs. Green's children are fighting a war of their own against two spoiled city cousins who have just moved in and refuse to leave.
One thing that Emma Thompson would like children to learn after watching the film: "I want them to leave the cinema feeling different. I want them to feel inspired, and I want them to see that they can solve their own problems with a little nudge here and there."
The child actors in this film are both adorable and talented. In addition to Emma Thompson, the adult cast features other amazing actors such as Maggie Gyllenhaal and Maggie Smith, with guest appearances by Ewan MacGregor and Ralph Fiennes.
The quality of the acting, the beautiful filming and the storyline makes this movie reminiscent of the old-fashioned live-action Disney movies that we used to watch on TV on Sunday nights.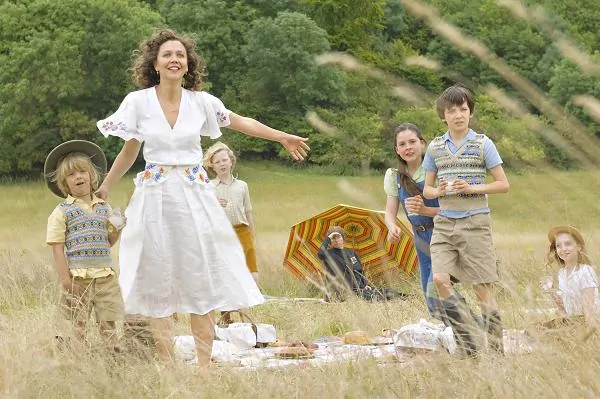 I had the opportunity to be a part of an Emma Thompson interview, and she had a lot to say about the marketing of films today.
I don't think of Nanny McPhee as being specifically for children. I think of it as a shared experience. I can't stand being corralled into groups so that we can sell something, like "This is a film for a 17-year boy."

It's hard to make something that everyone can watch, and it's usually all about marketing.

While I know that this movie is firmly marketed at younger people. It is designed nonetheless for everyone. It is written for everyone.
I completely agree. When I previewed the movie last week, that's exactly what I thought. There's something to appeal to everyone: adorable farm animals and physical comedy for younger kids, a glimmer of romantic nostalgia for grown ups (with no tawdry "it will go over their heads anyway" attempts at grown-up humor or sexual references, which I appreciate more than I can say), and a well-developed story that will appeal to older kids and adults. I did not take my 6-year-old son to see it, but my daughter, who is almost 12 and thinks she's too grown up for "kids' movies" enjoyed it a lot, as did I.
If you are a Nanny McPhee fan, you will be happy to know that in addition to her many other projects (including working on the film adaptation of My Fair Lady which she just wrote and will be acting in as well), Emma Thompson is writing the 3rd Nanny McPhee film.
Nanny McPhee Returns opens Friday August 20. Watch the official trailer now.
Read my interview with Emma Thompson for more about her life on screen and as a mom.

Disclosure: Universal Pictures invited me to pre-screen the movie, and then arranged the interview with Emma Thompson over tea at a posh hotel in New York City.