This post may contain affiliate links. Read my disclosure policy here.
I am not the kind of woman who is always on the cutting edge of fashion. People don't often ask me where I got a certain pair of shoes or outfit. I have not watched Project Runway, so I was unfamiliar with Nina Garcia, who is a judge, and also the author of Little Black Book of Style. However, it didn't take me more than a page or two to figure out that I liked her and her style. In the preface she says
I grew up in an unbearably hot city on the northwest tip of Columbia. I was constantly surrounded by incredibly vibrant, confident, feminine women, women who knew who they were and what image they wanted to convey to the world. They knew how to buy the right clothes for their bodies, how to edit out what did not suit them, and how to stay away from fads and maintain an aura of eternal style. It is my purpose with this book to inspire you the way these women inspired me.
Isn't that what we all want to be? Confident? Feminine? Admired? I have always felt somewhat confident, but not because of what I wore or how I looked. Over the last few years, I keep trying to convince myself to buy quality and not quantity, and that comfort is not the chief factor in what I wear, but these are hard changes to actually implement. If I were looking at two pairs of pants and one cost $60 and one cost $24, there would be no question which one I bought. However, thanks to Nina Garcia's assessment of "The Basics," I now know where to start in my process of upgrading my wardrobe.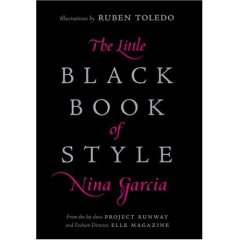 For those of you who are already fashion-conscious, you will find much to love in this book as well. The pen and ink drawings by Ruben Toledo are elegant and whimsical at the same time. The chapter called "Insider Tips and Tricks" where Nina Garcia interviews people with whom I'm unfamiliar, but those of you in the know probably are, gave me an added boost about what I "should" be doing. Those who really enjoy fashion will devour the "Fashion Cliff's Notes, Decade by Decade."
In a word, this book is inspiring (to see exactly how I was inspired to edit my closet, check out Tackle It Tuesday this week). I am encouraged that perhaps by making more of an effort in this small superficial area, I might uncover some undiscovered benefit as well. Reading this book did not make me feel hopelessly out of date, but rather encouraged me to change my thinking and gave me the knowledge I would need to focus on a few small areas to change. Nina Garcia promises that this book will change your life, or at least your closet, which will change your attitude, which can in fact change your life.
Are you looking for a change?
The publisher is giving away 3 books (5 books if we get at least 50 comments). If you have a Canadian or U.S. shipping address, leave a comment here. If you'd like, tell me if you are already crazy for fashion, or if you are like me–a little fashion-challenged.