This post may contain affiliate links. Read my disclosure policy here.
Over at An Island Life, I currently have a few giveaways going on: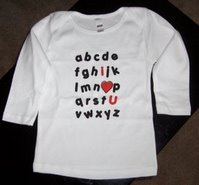 Tomorrow is the last day to enter the cutest I Love You Alphabet Shirt from The Laughs Will Go On. Just mention the giveaway on your blog with a link back to her and Uncommonly Cute. Then leave a comment on the giveaway post to let her know you've entered!
There's a whole bunch of things going on at Mamanista in celebration of her 30th birthday! Stop by there and enter to win the following:
Style it Less is having a "Show Me Your Pink Stuff" Contest in honor of Breast Cancer Awareness Month. To enter, just take a photo of your "pink stuff" and email it to her before October 31st. There are some cool prizes to be won!
This looks like such a cute video! A Frog In My Soup is giving away five copies of the Danger Ranger DVD. To enter, just sign the Mr.Linky or leave a comment on the giveaway post. Deadline is October 25th.
Is your home in need of some serious organizing? Well, I'm an Organizing Junkie is having a contest to help motivate you to clean up that mess! Beginning Nov 1st, she'll have a Mr.Linky up where you can leave a link to your "before" photo. You then have all month to get things in shape. For more information, stop by the contest post.

Are you looking for a great book to add to your child's library? Stop by Adventures in Babywearing before October 21st where you could win a copy of Mama Panya's Pancakes from Barefoot Books.
Mom 4 Life is having a double celebration this month – her birthday and her 4 month blog anniversary! In honor of this, she's holding a month long giveaway of over $1425.00 worth of products! In addition, she's donating $1 for every 5 entries to her local Open Arms Pregnancy Center. Stop by and check it out!
Do you have a cute photo of your kids hanging out in a pumpkin patch? 1SmartMom is having a photo contest where you could win a $20 gift certificate to Fandango.com. You have until October 25th to email her your photo. The winner will be selected randomly.
HALLOWEEN IS COMING!
The National Confectioners Association (NCA) announced America's Top 10 Sweet Spots for Halloween. Is your city one of the sweetest in the country? Find out! Stop by the NCA site for more great information regarding Halloween!
When it comes to carving pumpkins, I'm the most uncreative person around. That's why I was thrilled to find this website where you can download printable pumpkin carving patterns. Go check it out!

Then once you carve your pumpkin creations, enter it in the 2007 Pumpkin Carving Contest at Leanne Wildermuth's site. You could win a $25 gift certificate to Amazon.com or a signed copy of WordPress for Dummies. Deadline to submit your entry is October 30th with the voting starting on October 31st.
Simply Good Media is looking for a Home Blogger. They're looking for someone who can successfully and consistently blog on the topic of decorating your home on a budget. You must be able to do product reviews, report on recent trends, etc. For more information, stop by ProBlogger.
GREAT DEALS
Over at The Itty-Bitty Bookworm, they're having a sale on children's books. Each title is only $3.00! Hurry, there are only a few left!
Kim and Jason are giving you the opportunity to download this free ebook – 79 Ways for Busy Mothers to Escape Adulthood. For more information, stop by Escape Adulthood.
Would you like the opportunity to receive a free product in exchange for reviewing it on your blog? Dawn is looking for 400 bloggers to test out their new Dawn Direct Foam. You can find more information here.
If you would like to have a post on your blog featured in 5 Minutes Around The Blogosphere, please send us an email at features5minutesformom at gmail dot com and we'll see if it can be arranged.
Kailani can be found at An Island Life and An Island Review.